Chore-Time® News
Chore-Time KONAVI® Poult Feeder Gives Turkeys a Strong Start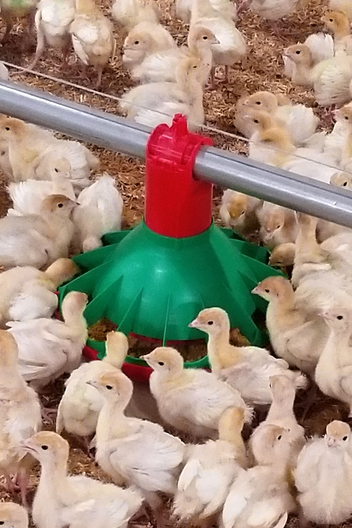 January 28, 2020
MILFORD, Indiana, U.S.A. — The KONAVI® Poult Feeding System has a unique open-style design with a green center cone that makes feed highly visible and helps attract young birds. The sloped sides of the cone also keep turkeys from getting inside the pan and soiling the feed. The KONAVI Feeder works with all types of feed and helps prevent clumping and bridging.
Mindy Brooks, Global Marketing Director for Chore-Time, said, "the KONAVI Feeding System is perfect for turkey operations and provides an important tool to give poults a fast and healthy start."
Maximum Feed Access
With its ultra-low pan height and patented scalloped edge, the Chore-Time KONAVI Feeder provides easy access for turkey poults. Turkey producers can flood pans with feed to attract young poults, then raise the pans using one of three settings to control the amount of feed delivered. At approximately six weeks of age, turkeys are typically moved to a house with adult feeders such as the Chore-Time Model ATF™ Feeder.
Minimum Feed Waste
The KONAVI Pan features a unique angled cone with anti-rake fins that discourages poults from stepping into the feeder and scratching feed out of the pan with their feet or beaks. It helps keep feed clean and uncontaminated – improving feed availability and feed efficiency.
Complete Cleaning
"We designed the KONAVI Feeder to be easy to clean because we know how important it is for turkey operations to protect bird health," said Brooks. With the KONAVI Feeder, there are no grills, corners or pockets to trap feed, or birds. The simple, streamlined design permits more complete cleaning of the feeder between flocks.