CHORE-TRONICS® 2 Controls for Broilers
The Proven Simple Solution — Enhanced With Features You Requested
Larger Text Size Plus External Contrast Control Better Legibility
Alphanumeric Keys Simplified Data Entry
External Set-Up Key Port Easy Access
Large 1/4 VGA Screen Less Scrolling – Easier To Read White Screen
Tab Buttons Quick Screen Access
Index Keys Easier Navigation
14 Subject Keys Familiar Protocols
2 Separate Set-Up Screens For Quicker, Easier Set-Up
CHORE-TRONICS® 2 Controls offer the proven performance of the original CHORE-TRONICS® Controls with enhanced features and built-in peripherals. This generation of controls from Chore-Time is easy to use and easily expandable as your needs change.
Convenient to Use
Large, easy-to-read text.
External contrast control.
Easy data entry.
External set-up key port.
Large screen; less scrolling. Now even easier to read.
Quick screen access and set up.
Straightforward navigation.
Intuitive subject keys.
Nameable outputs.
Management Tools
Ventilation timer ramping via temperature and relative humidity.
Cycling of minimum ventilation fans.
View current mode of operation as well as transitions.
Wide range of history subjects.
User-defined programs.
Configure to show today's water and feed.
Transfer settings or back up settings to set-up key.
Identify potential house environment problems early.
Quickly measure the impact of operational changes.
Standard Features
Quarter VGA (video graphics array) screen displays more lines of text and includes larger, easy-to-read font and external screen contrast adjustment. Now even easier to read.
Alphanumeric key pad simplifies data entry — you can name outputs such as heat zones, inputs and programs.
CHORE-TRONICS® 2 Controls are available with 32, 40 or 56 outputs, plus 12 controlling analog inputs and 8 digital inputs (total outputs and inputs are both expandable — see optional features).
Unit is more complete "out of the box" with built-in static pressure sensor, built-in communication (FNM) board, and dedicated output for light dimmer control.
Control also includes:
• Six temperature sensors
• Dedicated output for back-up box
• Four light clocks for flexible light control
• Eight spare clocks for output assignment
• Ventilation timer ramping.
Current conditions now shows current mode of operation as well as direction of transition if a transition is under way
Expanded history subjects — include separate male and female mortality data, maximum and minimum relative humidity, individual temperature sensor history, and total heat zone run time.
Increased number of user-defined programs.
Auxiliary data screen displays today's water and feed as well as today's equipment run times, based on the control's configuration.
External set-up key access makes set-up key use more convenient.
Flexible mounting positioning is friendly to space constraints — mount boxes above, below, beside or across from each other.
Optional Features
Outputs expandable in increments of 8 up to 80 total outputs.
Use up to 7 expansion boards to add additional monitoring inputs in sets of 4 digital or 4 analog for a maximum of 28 additional inputs (48 total, counting the 20 that are included).
Up to 6 optional controlling temperature sensors may be added for a maximum of 12.
Variable speed output available (requires additional equipment)
Literature
Manuals
Specifications
White Papers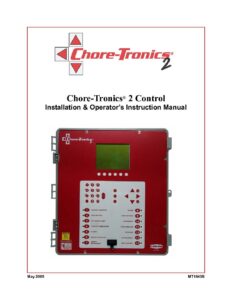 MT1843B CHORE-TRONICS® 2 Control Install & Operate
May 2005
Chore-Tronics® 2 D-Level Software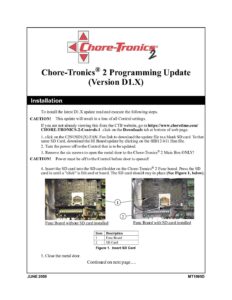 MT1895D CHORE-TRONICS® 2 Programming Update
(Version D1.X) Instructions