Chore-Time® News
Chore-Time Offers Radiant Tube Heaters for Poultry Houses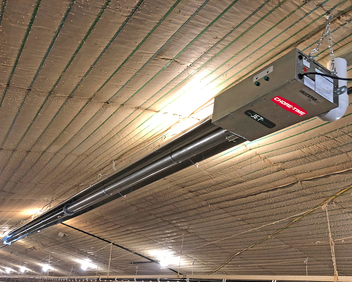 November 26, 2019
MILFORD, Indiana, U.S.A. — Chore-Time has partnered with Heatstar AG to offer JET™ Radiant Tube Heaters and COMFORTER™ Radiant Tube Heaters for superior heating efficiency and improved bird performance in poultry houses. Now available in the U.S. and Canada, the low-intensity heating options provide consistent, thorough heating to large areas to minimize cold spots and efficiently maintain an ideal climate for birds.
JET™ Series
The innovative JET™ Series of radiant tube heaters includes the 20-foot (6.10-meter) JET20™ Model, which delivers up to 80,000 BTUs per hour, and 25-foot (7.62-meter) JET25™ Model, which delivers up to 100,000 BTUs per hour. The JET25 offers approximately 25 percent more output than 80,000-BTU units and, depending on house conditions, covers up to 25 to 60 percent more floor area below the heaters than shorter competitive units according to Heatstar AG case studies.
The highly efficient JET Heaters include 10-foot-long (3.05-meter) burners, along with a unique dual-diameter tube system, to provide consistent heat throughout the poultry house. Thanks to the two diameters of tubes, the straight-line system uses positive pressure to move and radiate heat evenly along the full length of the heater. Additionally, warm air is expelled from the end of the tube to fill in the gap between heaters, and specialized aluminum reflectors evenly direct the heat up to 50 feet (15.24 meters) in width.
The unique combination of features found in JET Heaters minimizes hot and cold spots, unlike traditional tube heaters which often create arrowhead-shaped floor heat patterns. The superior heating performance provided by the JET Series Heater System has been shown to improve both feed efficiency and bird performance, compared with 40- or 50-foot (12.19- or 15.24-meter) traditional tube heaters, and has allowed some growers to improve feed conversion ratios with the potential to increase contract bonus payments.
Other standard features include gasket-lined burner boxes to keep out dust, aluminum tubing to resist corrosion and easy-access hinged panels for simplified maintenance, even while the burner is running. Power and diagnostic lights are positioned under the burner box for simple visibility. The heaters connect easily to control systems such as Chore-Time's CHORE-TRONICS® 3 Whole House Controller.
COMFORTER™ Series
Chore-Time also offers the economical COMFORTER™ Heaters from Heatstar AG, which are available in 40- and 50-foot (12.19- and 15.24-meter) tube sets, allowing growers to install fewer heaters than conventional round radiant heaters. These heaters offer multiple features for low maintenance and long-lasting performance, such as sealed burner boxes, direct spark ignition and corrosion-resistant aluminum tubing. They also connect easily to control systems, including Chore-Time's CHORE-TRONICS 3 Controller.