PDS™ Drinker Controls for Turkeys
Simplify Drinking System Management … with Chore-Time's Advanced PDS™ Controls.
Available Control for up to 80 Regulators
4-, 8-, 12-, 16-, 32- and 40-Station Controls
Convenient Water Pressure Control
Chore-Time's PDS™ (Pneumatic Drinking System) Controls offer poultry producers convenient control of the water pressure levels in all nipple drinker lines in the house.
Change the pressure in all lines or flush all lines from one remote location.
Program PDS™ Controls to automatically flush drinker lines as often as four times per day or as seldom as once a week.
Easily run "flush stimulations" to get cool water to the birds during hot weather.
Popular 4-, 8-, 16- and 32-station controls feature simplified hose connection and components enclosed in the controller box.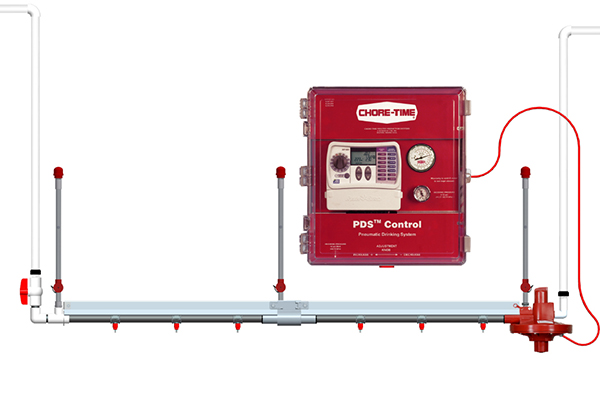 CHORE-TRONICS® 3 Whole House Controller Integration
For even greater drinker system control, try Chore-Time's CHORE-TRONICS® 3 Whole House Controller with incorporated PDS™ Functionality. It dynamically adjusts water column height to meet bird demand. It also includes these features:
Use built-in growth curves to automatically adjust water column height at varying bird ages.
Monitor curving of the minimum and maximum flow-rate alarms.
Choose to flush based on water temperature and/or time of day to stimulate birds to eat and drink.
Monitor and fine-tune water column and flush settings with the CHORE-TRONICS® Mobile App.
See How Chore-Time's PDS™ Control Can Simplify Your Drinker Management
Photos & Videos
Photos:
Videos:
Literature
Manuals
Specifications
White Papers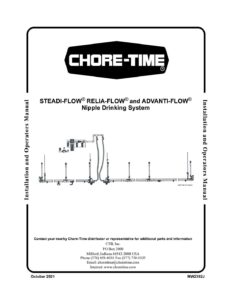 MW2392J STEADI-FLOW® RELIA-FLOW® and ADVANTI-FLOW® Nipple Drinking System
Oct 2021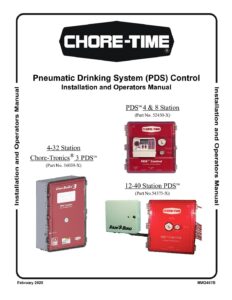 MW2467B Pneumatic Drinking System PDS™ Control 4 & 8, 4-32, and 12-40 Station Install & Operate
Feb 2020