Sometimes Copied…Never Duplicated
Genuine Chore-Time Components from Bin to Control Pan, All Work Together to Provide Optimum Bird and System Performance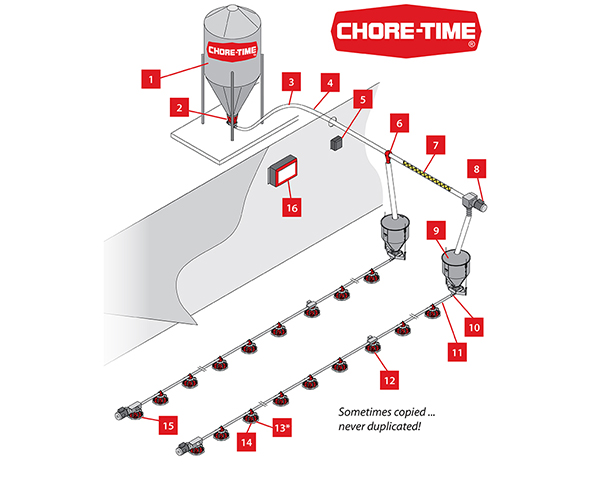 Chore-Time's see-through boot assembly has multiple discharge options to meet a variety of feed flow applications.
Good feed conversion starts with Chore-Time's all-galvanized feed bin, available in a variety of models with standard features such as the HYDROSHIELD® Weather Guard, SPRING-LOCK® Lid and high-capacity 40-degree roof. Feed inventory systems, bin scales and feed scales are also available.
FLEX-AUGER® Elbows permit the auger to go up, down or around corners without energy-eating gears or cogs. A thicker wall on the inside of the elbow provides extra durability.
Chore-Time's FLEX-AUGER® Fill System supplies feed to each line of feeders. This centerless auger, invented by Chore-Time, virtually eliminates feed breakdown and separation with negligible friction and wear.
Chore-Time's Auger Timer can be used to prevent the auger system from running longer than a pre-set time between three and 100 minutes. The timer prevents the system from running empty for long periods of time, and, when tied to a Chore-Tronics Control, will send an alarm. For added protection, the system requires a manual re-set after activation.
Outlet drops are placed wherever needed on the FLEX-AUGER® Fill System to bring feed to feeder line hoppers. Drops include a shutoff provision.
Chore-Time's centerless, low-energy-use fill system and feeder line augers efficiently pull feed through the enclosed tubes.
The fill system power unit mounts at the end of the FLEX-AUGER® Fill System to rotate the auger and fill the feeder line hoppers. It includes a motor specifically designed for this application along with Chore-Time's unique, proven gearhead.
Chore-Time's durable polypropylene feeder line hoppers hold 150 pounds (68 kg) of feed to service feeder lines as the birds eat, allowing an ample supply of fresh feed. Each hopper is easy to remove for clean-out, thanks to the twist-lock bottom collar. The hopper features a smooth interior surface and 60-degree slope to improve feed flow with no corners where feed could hang up.
Below the feeder line hoppers, Chore-Time's intake boot, anchor and bearing assembly and cannon ball help ensure that feed flows freely into the feeder line tube and auger.
Chore-Time's roll-formed feeder line tube is fully galvanized inside and out with a sturdy reinforcing seam where others use welds that can rust, leak or catch feed. Notches in the seam hold pans securely in position over feed outlets in the tube.
Chore-Time intermediate control pans are used for partial house brooding and signal the control pans to cycle the feeder line on or off to fill feeders up to the intermediate pan.
(*Not shown) Chore-Time's newest broiler feeder is its KONAVI® Feeder whose patented configuration lets even day-old chicks eat from outside the pan. The feeder's cone design also discourages birds from stepping into the pan which helps keep feed clean and uncontaminated.
Chore-Time's REVOLUTION® Broiler Feeder introduced Chore-Time's scalloped comfort grill and innovative Rotary Gate method of flood feed level adjustment. With the Rotary Gate, the flood level can be adjusted progressively as birds grow, even when the feeders are no longer resting on the floor. Special actuators permit adjustment of the Rotary Gate on groups of feeders at once.
Chore-Time control pans and application-specific power units cycle the feeder line on when the feed level in the pans gets low. Motors are sealed against dust and designed to meet the duty cycle of broiler feeding systems.
Chore-Time offers a variety of feeder control options, including its proven CHORE-TRONICS® Whole-House Controls, featuring easy expandability and built-in peripherals.
Literature
Manuals
Specifications
White Papers