REVOLUTION® Feeder for Broilers
The Greatest Advance in Feeder Technology Since Chore-Time Introduced the Flood Window in the 1980s
Broiler Weight – Up to 4.5 lbs. (2.0 kg)
Recommended Feeder Model – 12-spoke, 60 to 90 birds per pan
Broiler Weight – Up to 7.0 lbs. (3.1 kg)
Recommended Feeder Model – 12- or 8-spoke, 55 to 75 birds per pan
Broiler Weight – Up to 9.0 lbs. (4.0 kg)
Recommended Feeder Model – 8-spoke, 45 to 65 birds per pan
The Revolution® Feeding System
Easier, more comfortable eating.
More control of feed level.
Conserves feed – less feed waste.
Reliable and innovative construction.
More consistent bird uniformity.
Birds get to mature weight in less time.
Finish birds heavier or quicker – the choice is yours.
Comfort
Scalloped pan/grill perimeter matches the shape of today's larger birds.
Pan is both deep and shallow – controls waste like a deep pan while providing easy access like a shallow pan.
Pan is 1/2 inch (12.7 mm) lower at the eating area than some other feeders.
Broad feed surface area is easy for birds to reach.
Grill's "T-"shape spokes eliminate potential traps.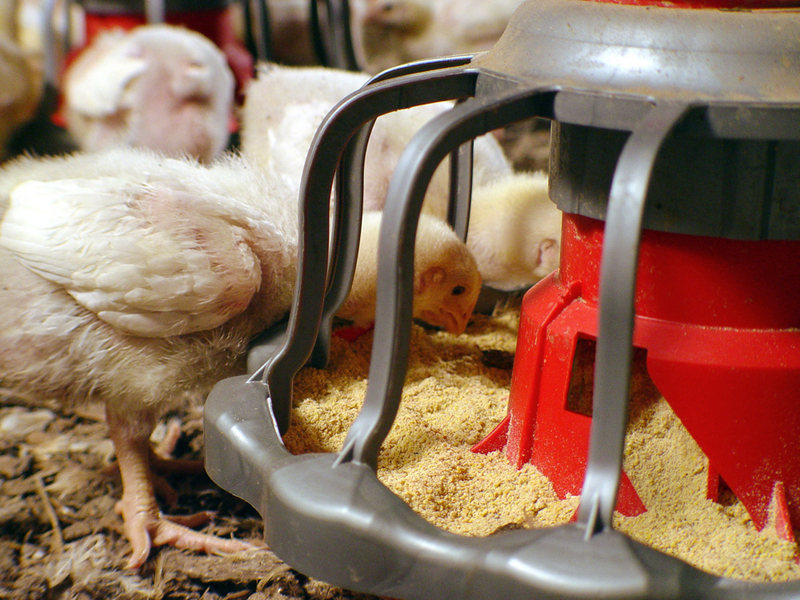 Control of Flood Level
With conventional feeders, you can choose to flood or not to flood.
With Chore-Time's REVOLUTION® Feeder, you can choose how much to flood.
Ramp down the flood level gradually as brooding progresses.
Or, continue to flood pans while they are suspended after brooding.
Flood level control at any pan height is based upon the use of two feed cones:  one inside and one outside.
The outside cone position stays fixed, while the inside cone rotates to gradually open or close the pairs of openings on the two cones.
The opening's shape and height keep feed distribution even, throughout each pan, and from pan to pan.
Adjustments of the brood feed level (flood level) are made to dozens of pans at a time using Chore-Time's automated ACCUTROL™ or manual ACCU-CLICK™ Actuator.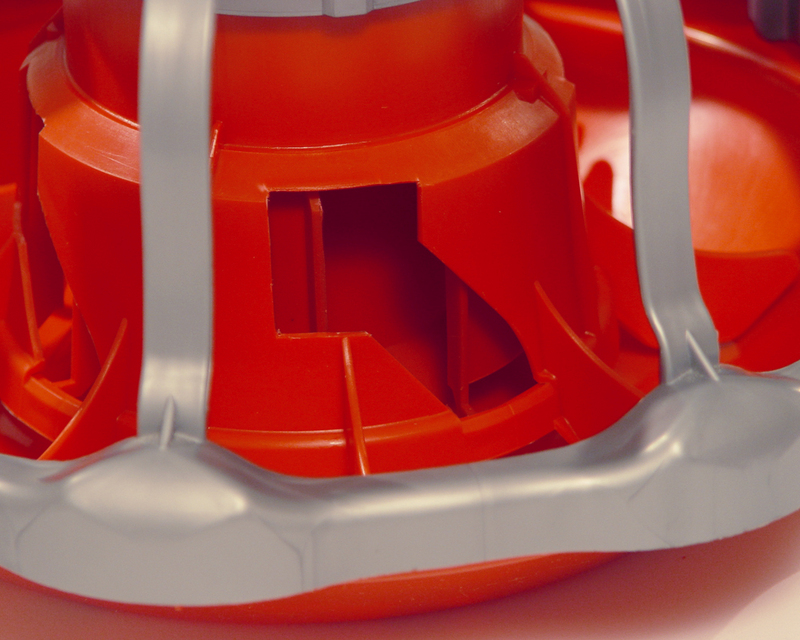 Control of Final Feed Level Settings
The REVOLUTION® Feeder includes six easy-to-adjust grow-out feed level settings indicated by numbers at the top of the REVOLUTION Feeder's grill.
These set the distance between the bottom of the feeder's cones and the pan bottom, which then determines the final feed level when the Rotary Feed Gate is fully closed.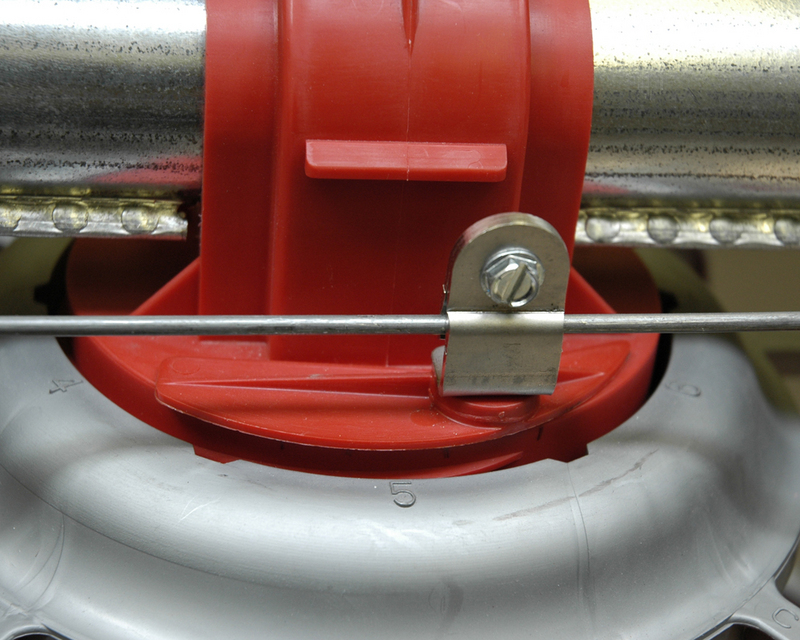 Conserve Feed and Improve Feed Conversion
The REVOLUTION® Feeder Pan's top rim extends out and up to attach to the grill, while the grill's bottom ring overhangs into the pan creating a barrier against feed waste.
Unique pan edge and sculpted grill mean anti-rake fins can be lower and still keep birds from scratching feed out into the litter.
Unique design of pan, anti-rake fins and ergonomically sculpted grill help keep feed in the pan while still making eating easier for birds.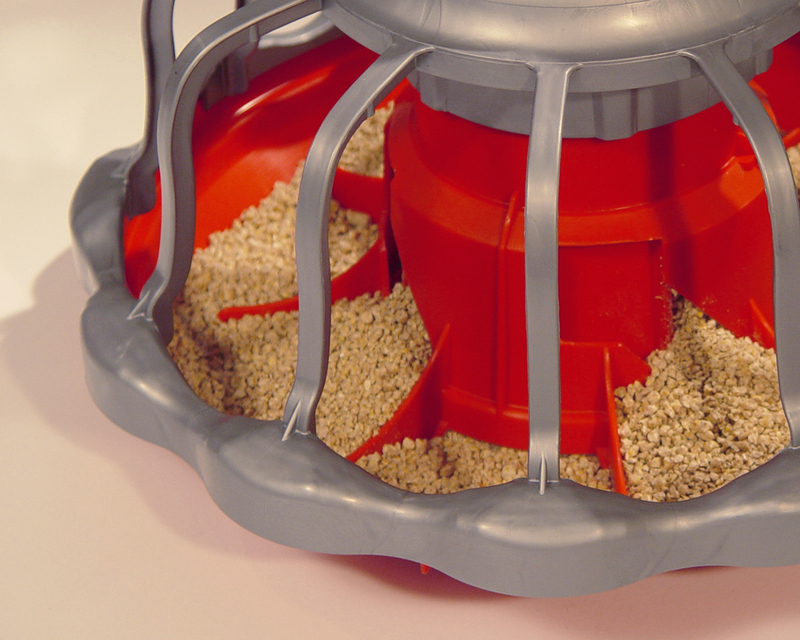 Construction
Twelve- or eight-spoke models are available.
Chore-Time's Revolution® Feeders are made using heavy-duty, durable polypropylene plastic.
Feeders are engineered to resist the effects of ultraviolet light.
The eating area of the pan is thicker for long life.
Twist pans to remove and use integrated hanging hooks for cleaning.
Pans re-attach with a positive "click" to assure that each is snapped securely in place.
Two-piece removable top makes it easy to change out damaged feeders in minutes.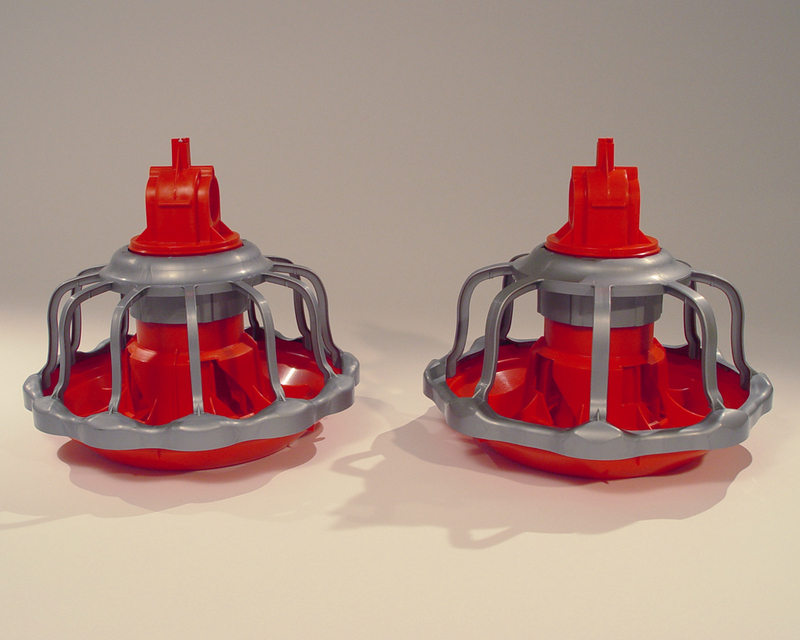 Choose Your Results – Finish Heavier or Quicker!
With Chore-Time's REVOLUTION® Feeder, birds may reach mature weight a day or two earlier. Or, if your market date is fixed, birds may gain extra weight by harvest.
The REVOLUTION Feeder's unique Rotary Feed Gate permits a gradual transition from high brood feed levels to grow-out levels, at any pan height.
Give your birds a REVOLUTION boost by changing their feed level with the only feeder that can do it both gradually and automatically … Chore-Time's REVOLUTION Feeder!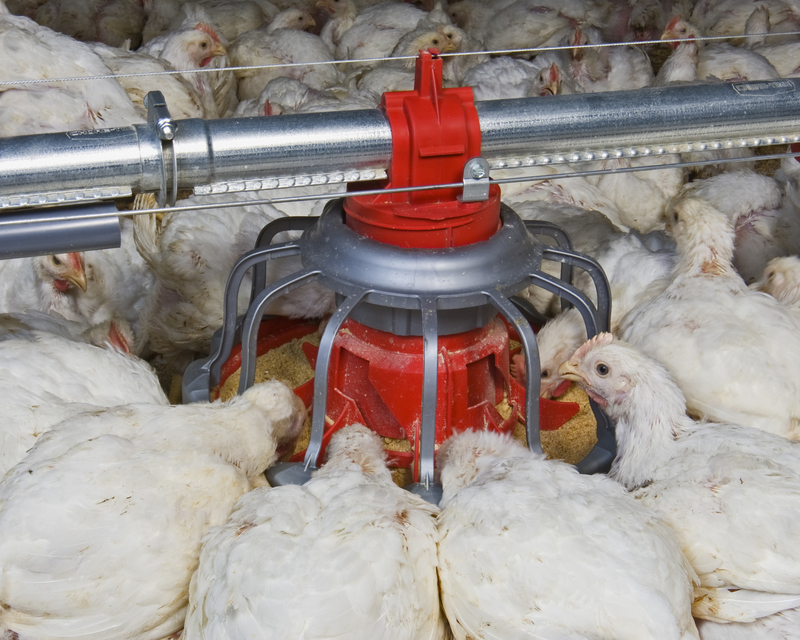 Photos & Videos
Photos:
Videos:
Literature
Manuals
Specifications
White Papers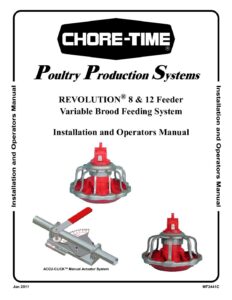 MF2441C REVOLUTION® 8 and 12 Feeder, Variable Brood Feeding System Install & Operate
Jan 2017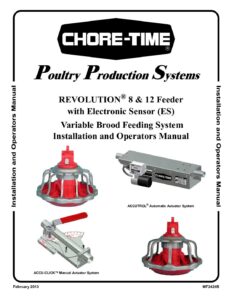 MF2425B REVOLUTION® 8 & 12 Feeder with Electronic Sensor (ES) Variable Brood Feeding Systems Install & Operate
Feb 2013