CHORE-TRONICS® PBU for Broilers
Eliminate Frequent Resetting of Thermostats With Chore-Time's Programmable Back-Up Box.
Input the house temperature curve and Chore-Time's PBU will ramp along with it automatically. Adds a layer of safety for operation of house ventilation and heating in the event of a failure or operator error from the main house controller.
Automatic Operation
Eliminates the need for frequent manual thermostat adjustment.
Replaces a thermostat to drive existing back-up boxes and to maintain relay redundancy.
Follows the house temperature curve – allows ventilation and heating back-up levels to change with set temperature.
Compatibility
Includes 5 cooling outputs, 2 heating outputs and an alarm output.
Compatible with C-CENTRAL™ Software so ventilation and heating data continues to be captured during back-up operation.
Use the CHORE-TRONICS® Set-Up Key to transfer back-up control settings from one PBU to another.
Literature
Manuals
Specifications
White Papers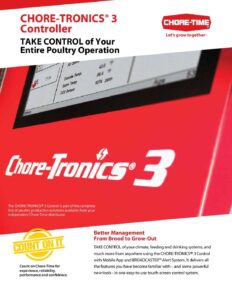 CHORE-TRONICS® 3 Controller
(CT-2537/202103)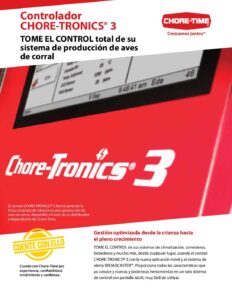 Controlador CHORE-TRONICS® 3
(CT-2537-ES-202103)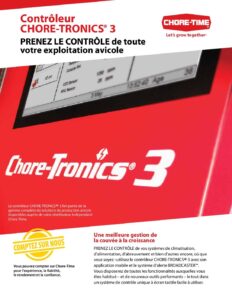 Contrôleur CHORE-TRONICS® 3
(CT-2537-FR/202103)