Center-Belt Nest Systems for Breeders
Chore-Time's 8-foot (2.4-meter) Center Belt System* builds on the success of its proven side belt model.
*Center-Belt Nests share all features in common with Side-Belt Nests, except only Side-Belt Nests have hinged egg tray covers.
Design Features
Open top nest design with closeable lid for training the hens.
Built in perch provides natural step entry into the nest.
Uses dual nest bottom support rods for nest stability.
Configurations
Five choices for nest bottom and pad combinations.
8-foot (2.4-meter) nest sections can be installed in single, double or triple arrangement with five different passageway length options.
Nest holes are available in 9.5-inch or 12-inch (24-cm or 30-cm) widths.
Literature
Manuals
Specifications
White Papers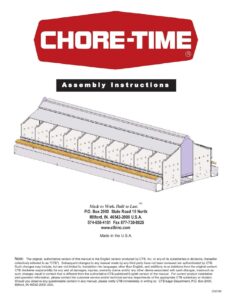 CN2168B Center Belt Nest Assembly Instructions
Dec 2009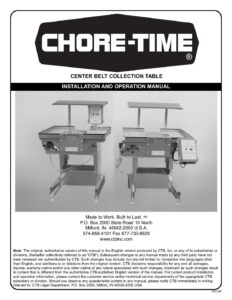 CN2169A Center Belt Collection Table Install & Operate
Feb 2006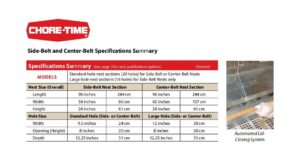 CHORE-TIME® Nest Specifications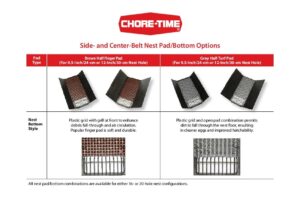 CHORE-TIME® Nest Pad/Bottom Options