CHORE-TRONICS® 3 Whole House Control for Broilers
More Ways to Maximize Broiler Performance
The CHORE-TRONICS® 3 Controller gives you complete command over your entire poultry house at every stage of growth. With your input, it automatically maintains precise monitoring and control over the feeding and drinking systems, environment and a wide variety of data relating to your poultry operation. Because you can view consumption and growth data in real time, the CHORE-TRONICS 3 System also helps you spot problems early and fine-tune settings so you get maximum performance out of every flock.
PDS™ Pneumatic Drinking System Technology
Maintain water pressure no matter how many birds are drinking using PDS technology built into the CHORE-TRONICS® 3 System. The CHORE-TRONICS® 3 Controller provides the right amount of water your birds need, exactly when they need it – automatically adjusting with bird age and bird demand.
No need to manually adjust dozens of regulators – save time and labor.
Control your water supply from one central location using defined growth curves.
Monitor curving of the minimum and maximum flow-rate alarms.
Choose to flush based on time of day and/or water temperature to help stimulate birds to eat and drink.
Monitor and fine-tune water column and flush settings with the CHORE-TRONICS® Mobile App.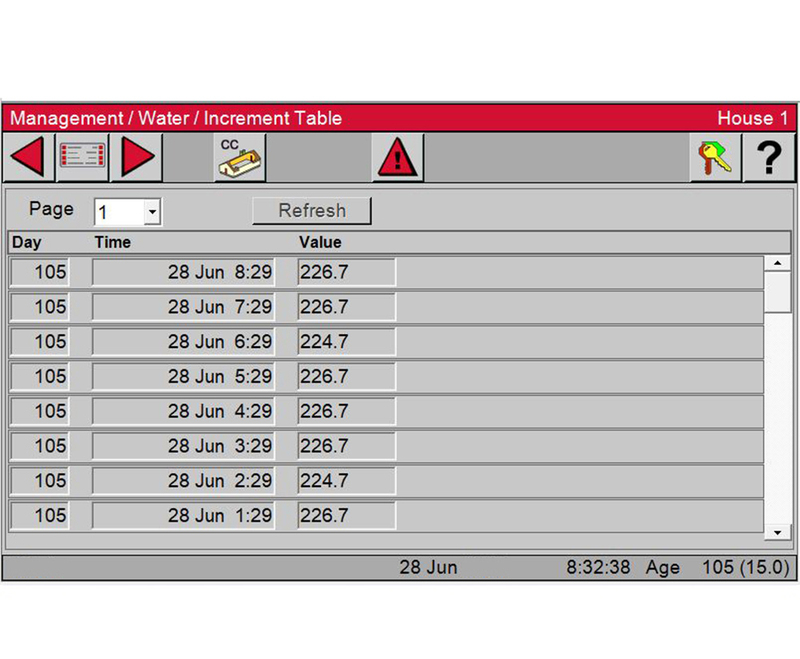 Heat and Moisture Removal Calculation
The CHORE-TRONICS® 3 System continuously calculates the recommended minimum ventilation time for removing heat and moisture from the house. It is the most accurate way yet to keep your birds comfortable and your floors dry.
Keeps track of the actual amount of water going into your house and takes measurements of temperature and humidity inside and outside the house.
Works hand-in-hand with built-in relative humidity influence controls to optimize moisture levels in the house.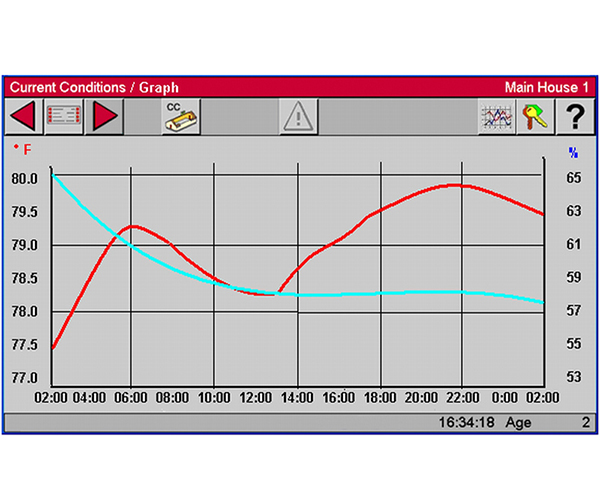 Maximum CFM Curves
Don't spend your days turning fans on and off as your birds grow. The CHORE-TRONICS® 3 Controller knows how much air each Chore-Time fan can move and provides automatic control to accurately maintain maximum CFM curves based on bird age.
The system uses preloaded CFM performance capabilities of Chore-Time fans to provide accurate airflow control.
As static pressure changes in the house, the control calculates how much air each fan can move based on the conditions.
Graphs and Tables Bring Your Data to Life
Analyze data and take action based on real-time production information in your house. Choose hourly details that let you fine-tune your system or summaries that give you the big picture.
Track water usage every 60 minutes over the last two weeks in table form.
Monitor 14-day trends with easy-to-read increment graphs of temperature, relative humidity, mortality, water consumption and feeder window curves.
Summary data for 100 days of mortality, water and feed consumption can easily be viewed in table form.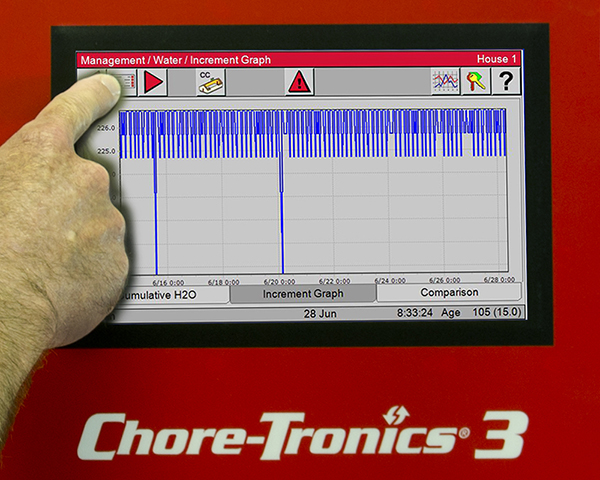 We Speak Your Language
The CHORE-TRONICS® 3 Control comes with 11 built-in languages to improve communication and efficiency. Instantly switch the display text between English, Spanish, French, Dutch, Polish, Turkish, Thai, Chinese, Japanese, Korean and Vietnamese. More languages are always being added.
Current Conditions At a Glance
The CHORE-TRONICS® 3 Control gives you all the current condition information you need on a single display. No wasting time searching for critical information. If you need more detail about any one condition, it is just a click away.
Set, average and variable-speed temperatures
Current ventilation mode
Today's water consumed
Today's feed consumed
Static pressure
Relative humidity
Air speed
Current bird weight
Outside temperature
Outside humidity
NH3 level
CO2 level
PDS water column height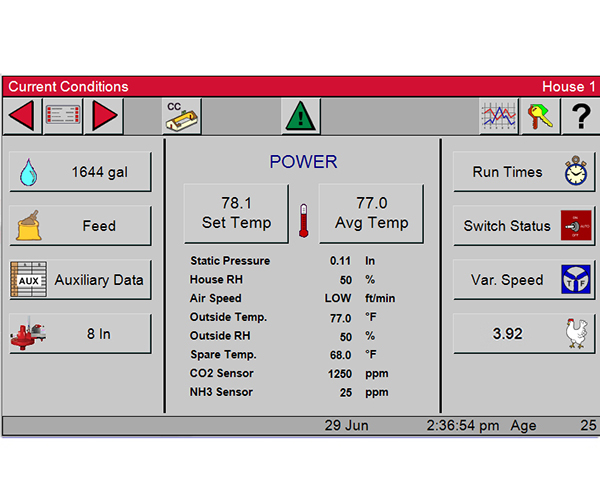 Mobile Access and Control
Control your poultry houses from anywhere with the Chore-Time CHORE-TRONICS® Mobile App for your Apple® iOS or Android™ device.* It uses a mobile server to communicate with your house control system whenever you need information, wherever you go.
*Apple and Android are not owned or licensed by CTB, Inc. and are the sole property of their respective owner or owners.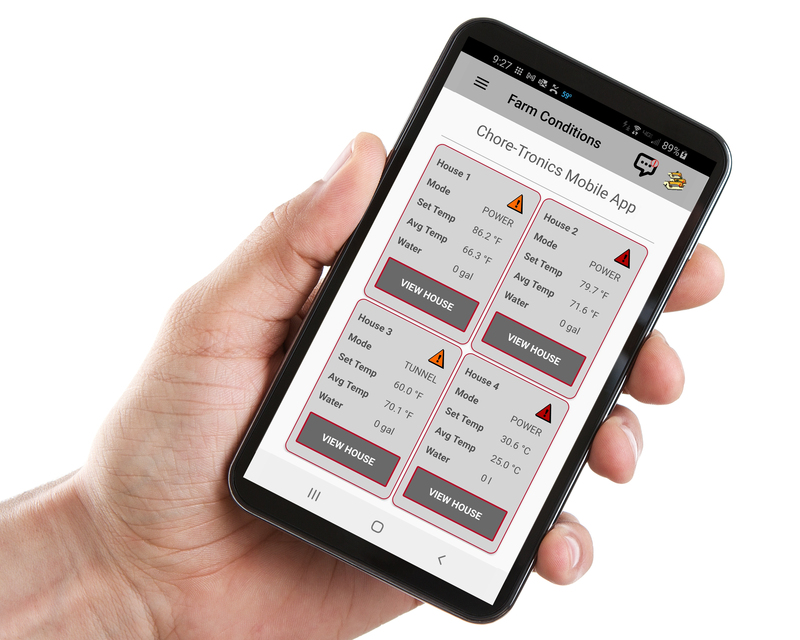 Photos & Videos
Photos:
Videos:
Literature
Manuals
Specifications
White Papers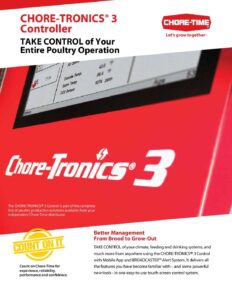 CHORE-TRONICS® 3 Controller
(CT-2537/202103)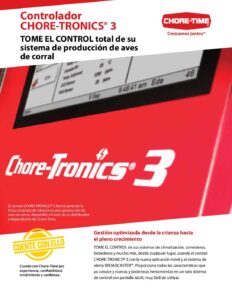 Controlador CHORE-TRONICS® 3
(CT-2537-ES-202103)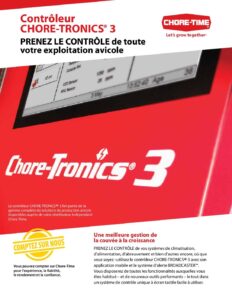 Contrôleur CHORE-TRONICS® 3
(CT-2537-FR/202103)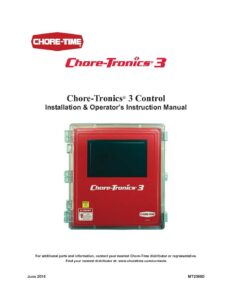 MT2398D CHORE-TRONICS® 3 Control Install & Operate
Jun 2018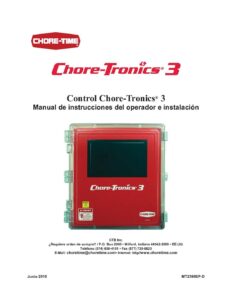 MT2398D-SP Control CHORE-TRONICS® 3 Manual de instrucciones del operador e instalación
Jun 2018