QuadRadiant® Heaters for Breeders
Now Available in a Low-Pressure Direct-Spark Model, Too! The Most Innovative Concept in Heating.
Performance Efficiency
The compact QUADRATHERM® Heater delivers a robust 80,000 BTUs of QuadRadiant® heat in a broad, quadrangular heat pattern.
Uses fuel more efficiently by converting more of the thermal capacity of the gas to infrared heat and transferring more of that heat to the floor.
Large, ribbed emitter surface area radiates more infrared heat than other heater styles.
Unique shape and reflective surfaces enhance transfer of infrared heat to the floor.
Spacious combustion chamber and highly effective burner enhance heater efficiency.
Pressurized burner results in even heat distribution through all burner ports.
Burner efficiency is further optimized using additional combustion air through the bottom of the heater.
Adjustable height helps optimize floor coverage.
QuadRadiant® heat requires less run time to heat a typical house.
Saves fuel by permitting zone control – heat only the areas of the house where heat is needed.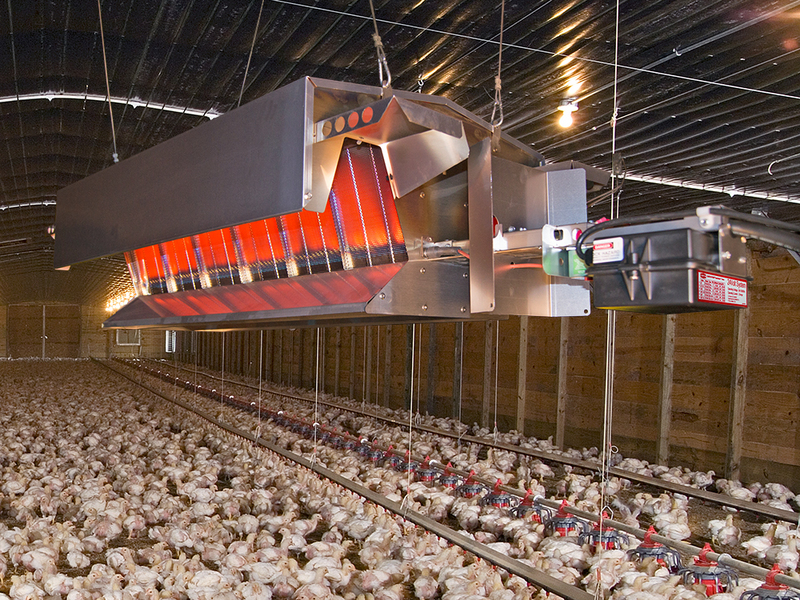 Ease of Operation
Reliable direct spark ignition or 500-BTU pilot.
Thermostatic, zone or individual sensor control.
Proven, reliable component parts.
Burner and igniter are protected from debris.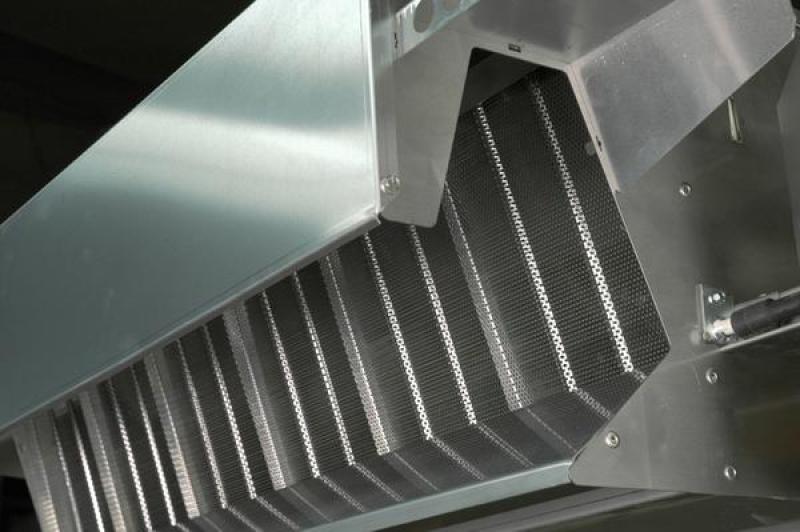 Delivered Assembled
Heaters are delivered assembled and ready to hang.
Units include 2.4-meter (eight-foot) power cords and gas hoses for flexible heater placement.
5-psi operation at the heater for high-pressure models reduces installation costs for piping and is retrofit friendly. (Low-pressure models require larger piping.)
120-volt zone control model does not require a transformer. (24-volt requires a transformer but also permits battery back-up, except for direct spark model.)
Slotted tabs at the corners of the heater permit secure four-point suspension for extra stability.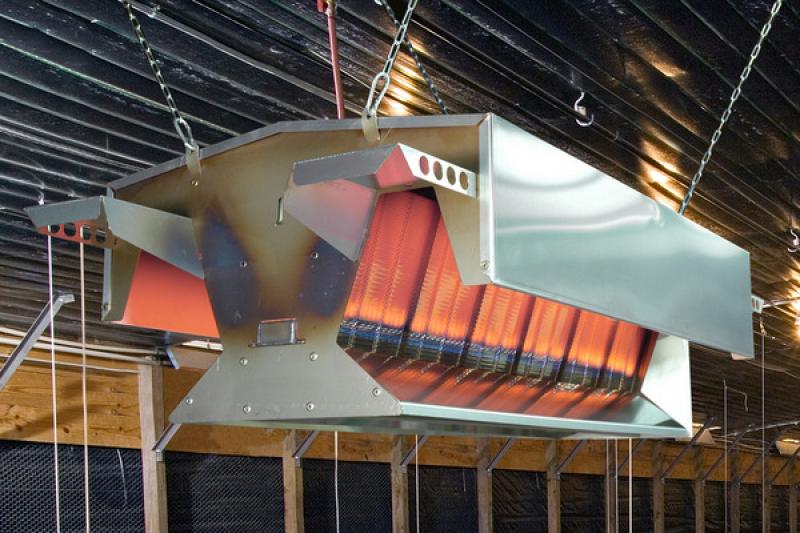 Easy Access for Maintenance
Burner is easy to access by removing one screw.
Three-piece bottom eases access for cleaning.
Corrosion-resistant stainless steel and aluminum construction. Designed for compressed air cleaning.
Heaters are winchable for house clean-out.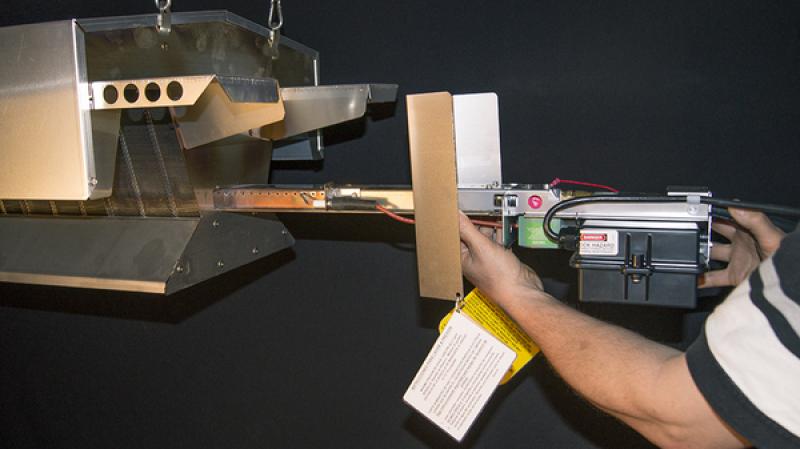 Controls Sealed from Debris and Water
Dust-Tight (DT) – Dust-Tight, high-temperature, co-polymer enclosures are standard on all control systems to protect against dust, dirt, and moisture. The Dust- Tight enclosure also facilitates access to interior components.
Wash-Down-Proof (WDP) – A Wash-Down-Proof option features the same high-temperature, co-polymer enclosure plus sealed components and a gasketed housing that prevents water penetration. This permits power washing, if required for biosecurity.
Both enclosures have high dielectric strength and include fire retardant properties to resist the spread of flames.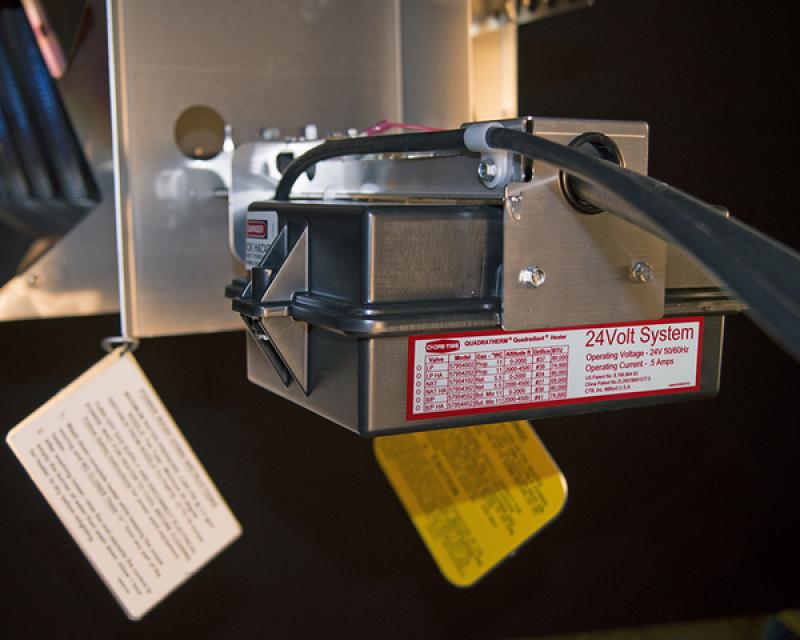 Advantages vs. Tube Heat
More even heat pattern.
More efficient conversion of fuel to heat.
Rectangular heat profile matches the shape of a poultry house.
Flexible for various house widths – no need for various models to get good, even heat.
Winchable for easy access for service.
Quicker up to temperature.
No problematic air intakes or ducting.
Units are easy to move.
Low-pressure, snap-action model runs without electricity.
Advantages vs. Brooders
Requires fewer units – perhaps as few as one QuadRadiant® Unit to replace two infrared brooders or four convection brooders, depending on house configuration.
More even heat pattern.
More efficient conversion of fuel to heat.
Rectangular heat profile matches the shape of a poultry house.
Quicker up to temperature.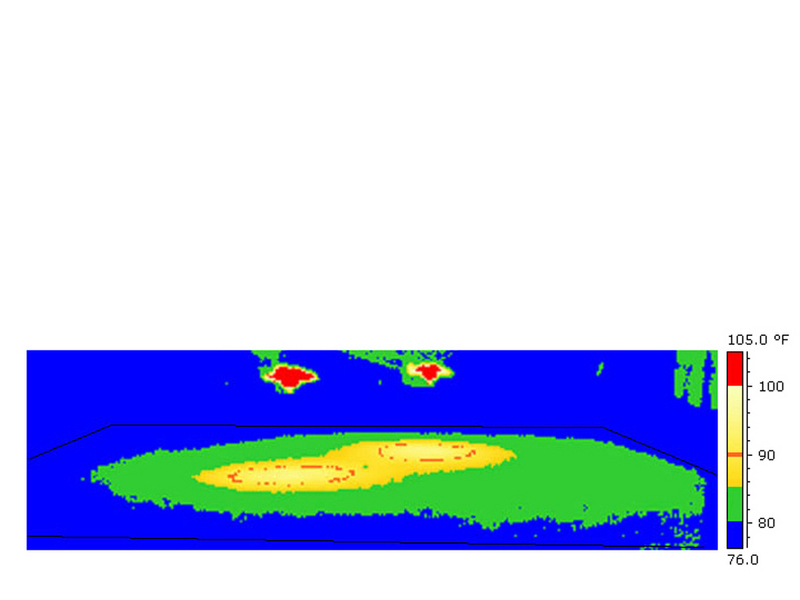 QuadRadiant® Heat Solves Typical Heating System Problems
Rectangular, house-shaped heat patterns from QuadRadiant® Heaters are even and match the rectangular shape of a poultry house.
A single QuadRadiant® Model provides broad, even heat for most house widths.
With the QuadRadiant® Heater, more even heat patterns result in a larger comfort zone for birds and save fuel (hot spots waste fuel.)
QuadRadiant® Heaters are winchable for easy access for service and maintenance, and they are designed for simplified maintenance.
Installing QuadRadiant® Heaters requires no problematic air intakes, ducting or pressurized combustion.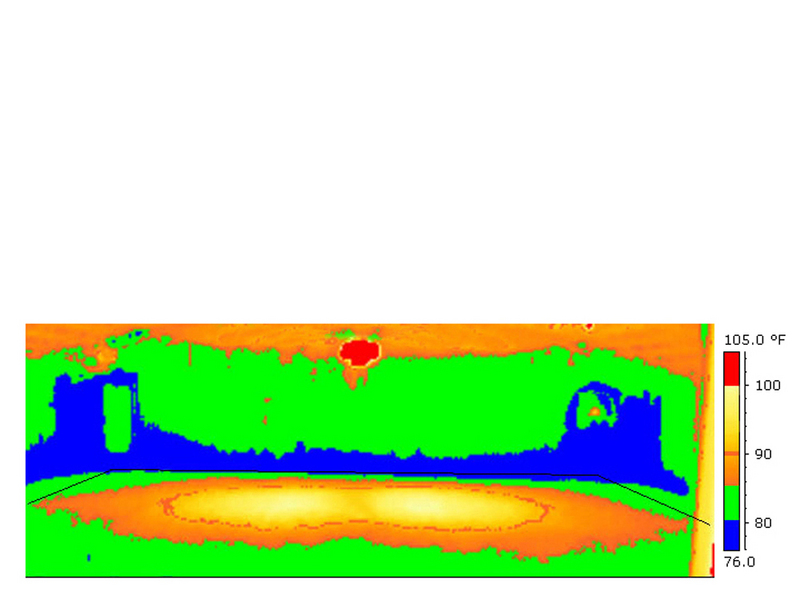 Photos & Videos
Photos:
Videos:
Literature
Manuals
Specifications
White Papers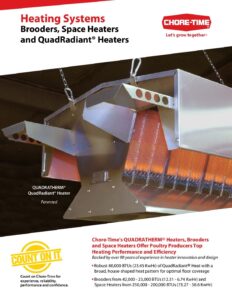 Heating Systems
(CT-2504/201901)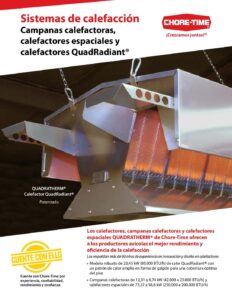 Sistemas de calefacción
(CT-2504-ES/202208)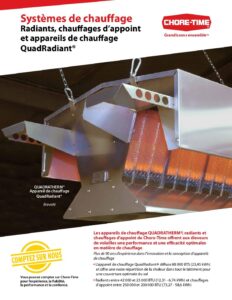 Systèmes de chauffage
(CT-2504-FR/201901)