ENDURA® High-Performance Corrosion-Resistant 57-Inch (145-cm) Fan for Broilers
Fan Performance
Chore-Time's Energy-Efficient, Standard-Mount ENDURA® Fan could save 14% or more in energy costs compared to Chore-Time's own great-performing 54-inch (137-cm) High-Capacity Fan, often while using the same number of fans!
Motors are selected for each fan model to optimize its performance efficiency. Extensive motor testing is completed in our on-site wind tunnel under various operating conditions.
All ENDURA® Fan components were designed by Chore-Time to maximize overall fan efficiency.
Shutter Performance
Chore-Time's HYFLO® Shutters do not suffer the typical 12-15% loss of efficiency and air speed typical of dirty louver-style shutters, so air speed is maintained to the end of the flock, when you need it most.
HYFLO® Shutters improve fan performance by minimizing obstructions during fan operation. They deliver up to 10% more air than traditional shutters with 75% less opportunity for air to leak through.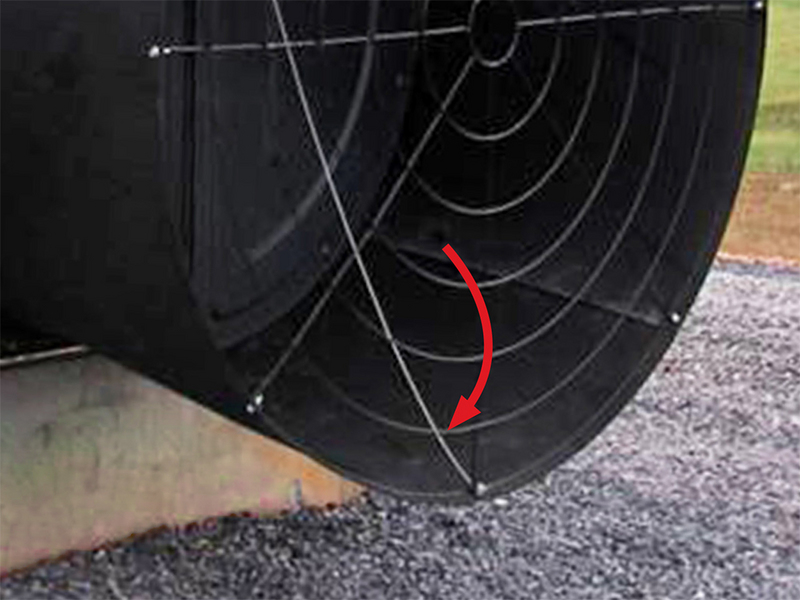 Exceptional Materials
Durable long glass fiber composite shroud and HYFLO® Shutter Doors contain 35% fiberglass for strength and to limit expansion and contraction.
Galvanized, powder-coated fan drive, support structures and flush-mount box. Optional stainless steel fan blade and shaft.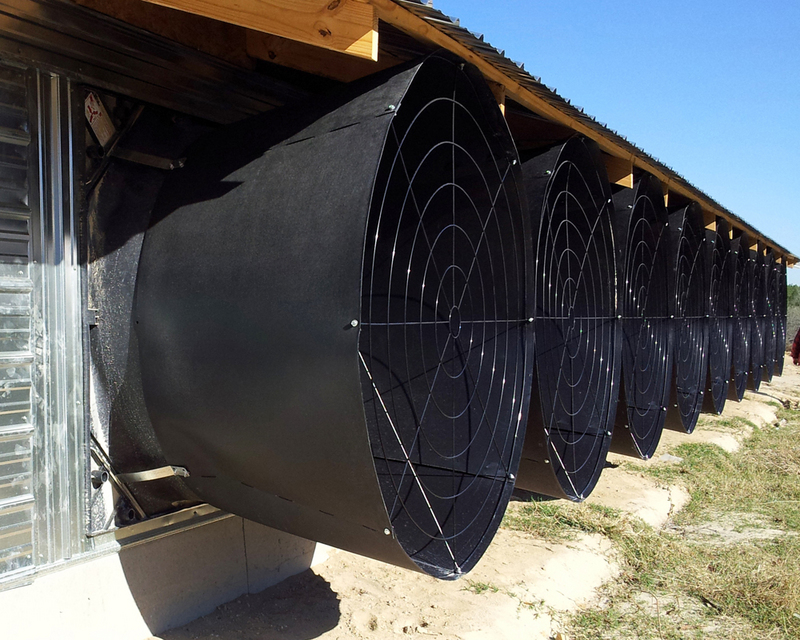 Durability
Extensive durability testing under both extreme high and extreme low temperatures.
Automatic belt tensioner uses an idler arm and pulley to provide constant belt tension.
Rugged air-handler bearings are shielded from dust and moisture, self-aligning, prelubricated and include a zerk fitting.
Aerodynamic three-wing, heavy-duty fan blade.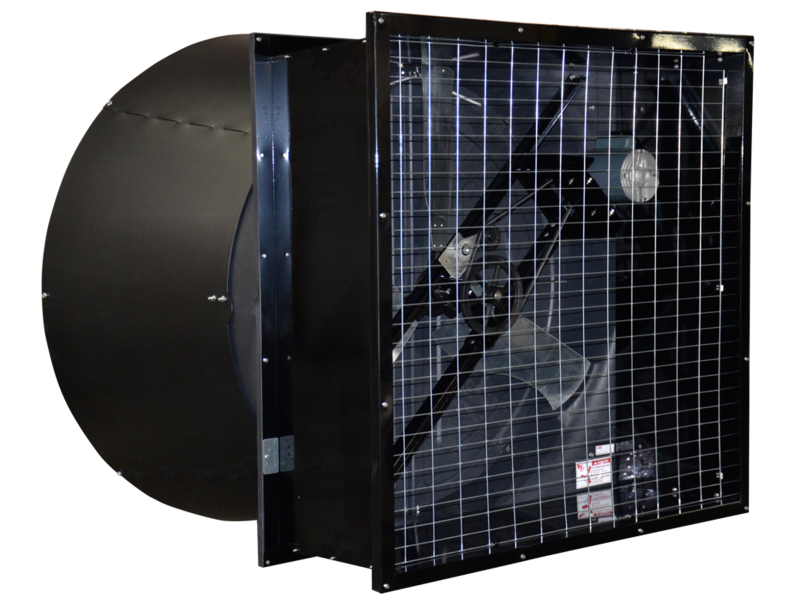 Adaptability
Can be installed 60 inches (152.4-cm) on center over 56.5-inch (143.5-cm) framed openings.
For retrofit, will fit over openings for many 48- through 54-inch (122- through 137-cm) fans.
Black HDPE (high-density polyethylene) cone aids in light control.
Capable of variable speed operation with the use of a variable frequency drive.
Mounting Options
The standard-mount model of Chore-Time's ENDURA® Fan offers the best performance and easiest installation.
Chore-Time's flush-mount ENDURA® fan delivers high air flow and efficiency and also eliminates obstructions inside the poultry house.
Two mounting options for the flush-mount model are possible – through the wall or over the wall.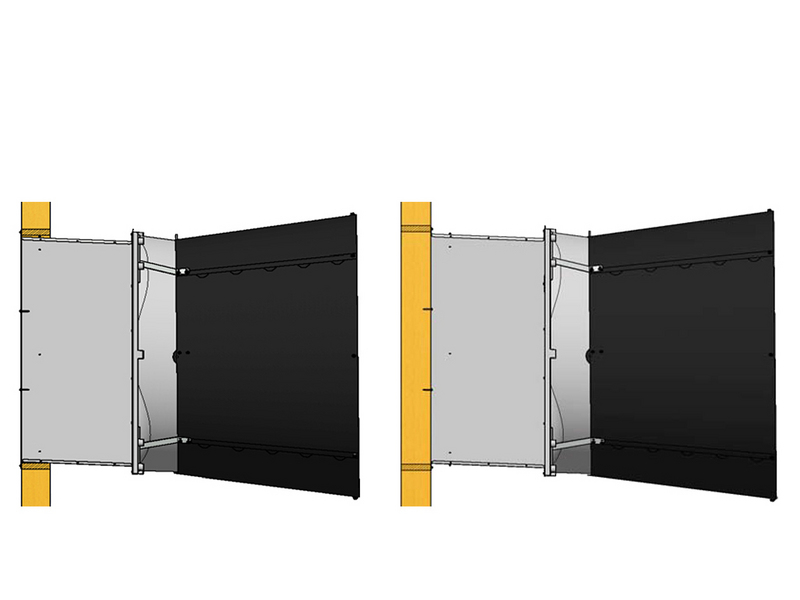 Variable Speed Fans
The Energy-Efficient Way to Smooth House Temperature and Airflow Changes
Photos & Videos
Photos:
Videos:
Literature
Manuals
Specifications
White Papers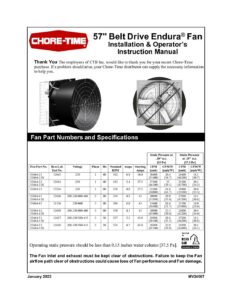 MV2406T 57-Inch Belt Drive ENDURA® Fan Install & Operate
Jan 2022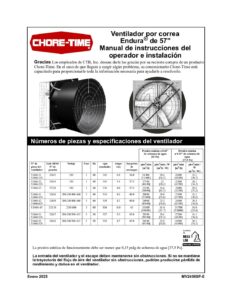 MV2406SP-E Ventilador por correa ENDURA® de 57 pulgadas Manual de instrucciones del operador e instalación
Enero 2023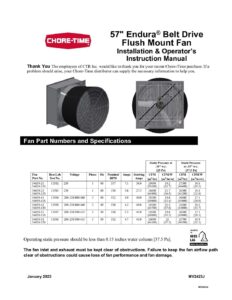 MV2423J 57-Inch ENDURA® Belt Drive Flush Mount Fan Install & Operate
Jan 2023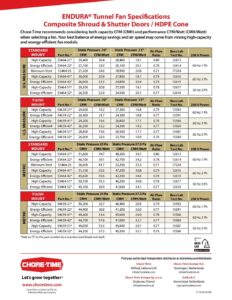 Chore-Time ENDURA® Fan Specifications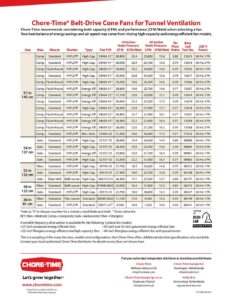 Chore-Time® Belt-Drive Cone Fans for Tunnel Ventilation Specifications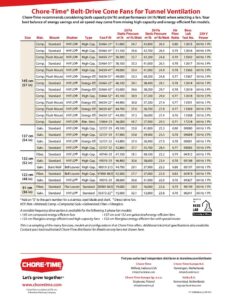 Chore-Time® Metric Belt-Drive Cone Fans for Tunnel Ventilation Specifications