Variable Speed Fans for Breeders
Chore-Time® 57-, 54-, 52- and 48-Inch Fans (145-, 137.2-, 132.1- and 121.9-cm)* with HYFLO® Shutters
Select models available with a variable speed option to improve your birds' environment.
The Energy-Efficient Way to Smooth House Temperature and Airflow Changes
Have you ever noticed excessive fan cycling?
Have your young birds experienced chilling or increased mortality from excess airflow?
Are you concerned about energy efficiency on your small minimum ventilation fans?
Chore-Time's variable speed fan option offers a solution to these problems and an improved environment for your birds.
*Variable speed option available for certain fan models.
Features and Benefits
Improve the environment for your birds by using Chore-Time's variable speed fan to smooth the house's airflow and temperature curves.
Gain efficiency with impressive CFM/watt during ramp up and ramp down periods.
Reduce framing costs for new construction or retrofitting by adding a variable speed kit to a tunnel fan instead of installing a small fan.
Inexpensively add variable speed capability to existing houses by converting existing tunnel fans to variable speed.
The fan's ability to gradually ramp up to full capacity (or down from full capacity) as the temperature goes up (or down) allows for a more gradual change in air speed, saves energy and provides a more consistent environment for birds.
How Does Use of a Variable Speed Fan Work?
Using your CHORE-TRONICS® 3 Control and a Variable Frequency Drive, the fan equipped with variable speed capability comes on briefly at 100% to open the shutter, then drops back to the minimum speed setting.
The fan gradually accelerates to 100% (based on house temperature) until the first tunnel fan comes on. It then drops back to the minimum speed setting again and begins ramping up as the house temperature increases. This process can be repeated until all tunnel fans are on.
By increasing (and decreasing) its airflow gradually, Chore-Time's Variable Speed Fan helps smooth out both airflow and temperature during the period before and after full tunnel operation.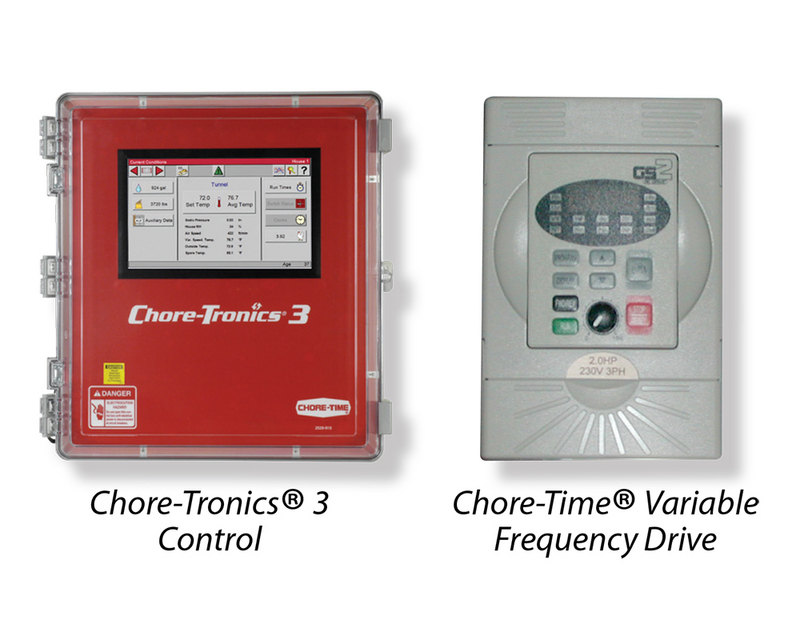 Literature
Manuals
Specifications
White Papers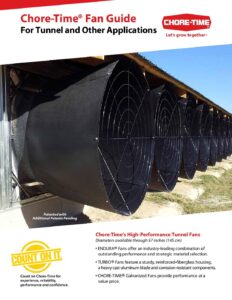 CHORE-TIME® Fan Guide
(CT-2298/201911)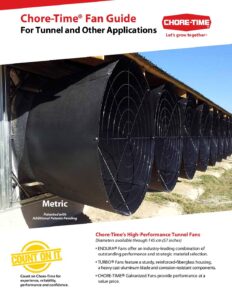 CHORE-TIME® Metric Fan Guide
(CT-2298/201911)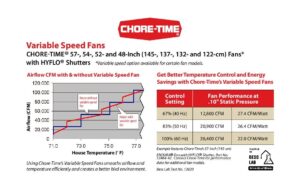 Chore-Time's Variable Speed Fans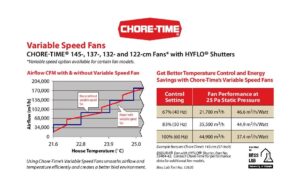 Chore-Time's Metric Variable Speed Fans