Floor Bird Pan Feeders for Eggs
Chore-Time's Circulating Pan Feeding (CPF™) System
With Chore-Time's Circulating Pan Feeding (CPF™) System, you get a fresh, even feed ration throughout the layer house.
Uniform Feed Rations
Delivers uniform feed rations to every bird as soon as the feeder starts.
Chore-Time's REVOLUTION® Feeder Pans feature 12 individual eating positions and comfortable, scalloped grill at pan's edge.
Minimum Feed Waste
Pan design, anti-rake fins and grill work together to help keep feed waste to a minimum.
Easy to Install and Operate
Feeder does not require indexing, making it easier to install and operate.
Just one feeder line hopper is required per 500 feet (150 m) of feeder line.
Literature
Manuals
Specifications
White Papers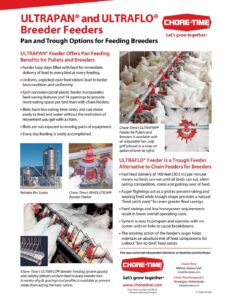 ULTRAPAN® and ULTRAFLO® Breeder Feeders
(CT-2565/201503)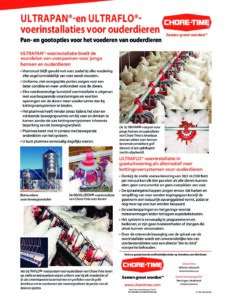 ULTRAPAN®-en ULTRAFLO®– voerinstallaties voor ouderdieren
(CT-2565-NL-201503)