Agricultural Incinerators for Broilers
Efficient combustion technology
Easy to use
Biosecure and sanitary
Capacities from 200 to 850 pounds (91 to 386 kg)
Proven, quality incineration since 1962
Durable Construction
Stainless steel stack cap contains added material for longer life.
Counter-balanced arm design and mounting location for greater door strength and smoother operation.
Double wall thickness on side section of chamber top for added strength and longer life.
Easier-to-move skid base design for added strength and balance. Lower unit height for easier loading.
Ventilation Ports
Ventilation ports dissipate excess heat during operation.
Low Fuel Consumption
Rapid incineration means low fuel consumption.
Thick refractory lining in main chamber retains heat and increases efficiency.
Easy Operation
Waste can be destroyed as fast as it accumulates (under normal conditions with a properly sized unit).
Timer operation with auto-ignition (no pilots to light).
Easier loading and ash removal with lower profile and improved doors.
Reliable, Low-Maintenance Design
Single burner requires less maintenance.
Constructed of heat-resistant aluminized steel, stainless steel and industrial strength refractory for long life.
Continuous-welded bottom seams for added durability and no grates to replace.
Literature
Manuals
Specifications
White Papers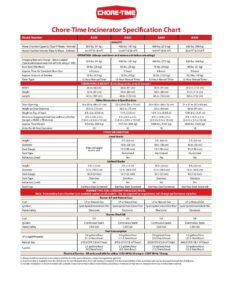 CHORE-TIME® Incinerator Specifications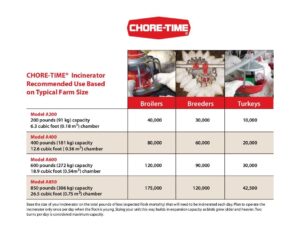 CHORE-TIME® Incinerator Capacities