MODEL G™ PLUS Feeder for Broilers
The Heavy-Duty Feeder for Roosters, Roasters, Turkeys and Other Poultry
MODEL G™ Plus SHL Shallow Pan, Window or Non-Window
Pan Depth 2.5 inches (64 mm), Extended Fins Available
MODEL G™ Plus STD Standard Pan, Window not Available
Pan Depth 3 inches (76 mm), Extended Fins Not Available
MODEL G™ Plus EXT Extended Fin, Window Only
Pan Depth 3 inches (76 mm), Extended Fins Available
Starts Birds Well and Saves Feed as Birds Grow for Top Feed Conversion
Shallow pan option reduces the need for feed trays and extra labor when starting birds.
Optional feed windows fill pans high with feed to attract young birds.
Feed-saving features include Chore-Time's "V"-shaped pan bottom design, double pan lip and anti-rake fins.
Extended fin model keeps the cone off the bottom of the pan (when the pan is on the floor and the windows are closed) resulting in more feed in the pan and improved flow for harder flowing feed.
All-plastic construction with ultraviolet protection and reinforced eating and cone wear areas. Precision molded parts are corrosion-proof and easy-to-clean.
Easy-to-read feed level settings make feeder easy to adjust for flooding or for a lower feed level as birds grow.
Durable, Open Design Accommodates Various Bird Types and Sizes
Bird-friendly 8-spoke open grill design lets young birds exit pans easily and, as birds grow, provides comfortable access to feed for even the largest birds.
Optional feed-saver lip extension is available for use with turkeys and other large poultry.
Designed for management simplicity.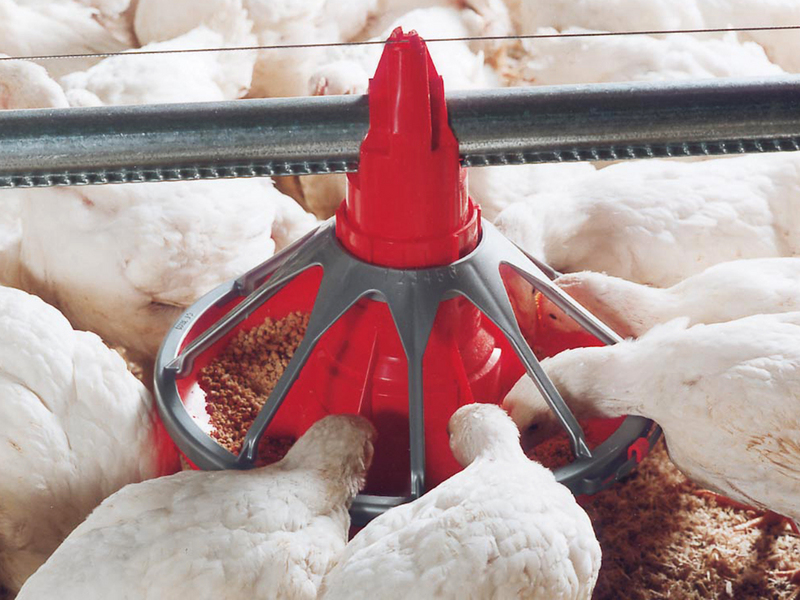 Other Feeder Features
1/3 or 1/2 HP 348 RPM power unit.
230 volt 50/60 Hz 1 or 3 phase power.
Optional removable top and slide shut-off available for all models.
Free-swinging pan is self-leveling and protects birds. Roll-formed tube keeps pans in position.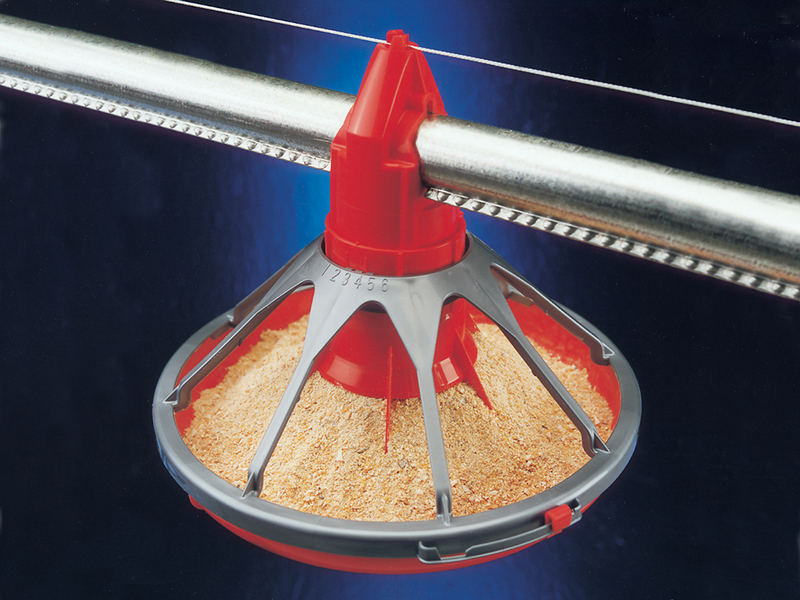 Photos & Videos
Photos:
Videos:
Literature
Manuals
Specifications
White Papers