1000 Reasons to Choose Chore-Time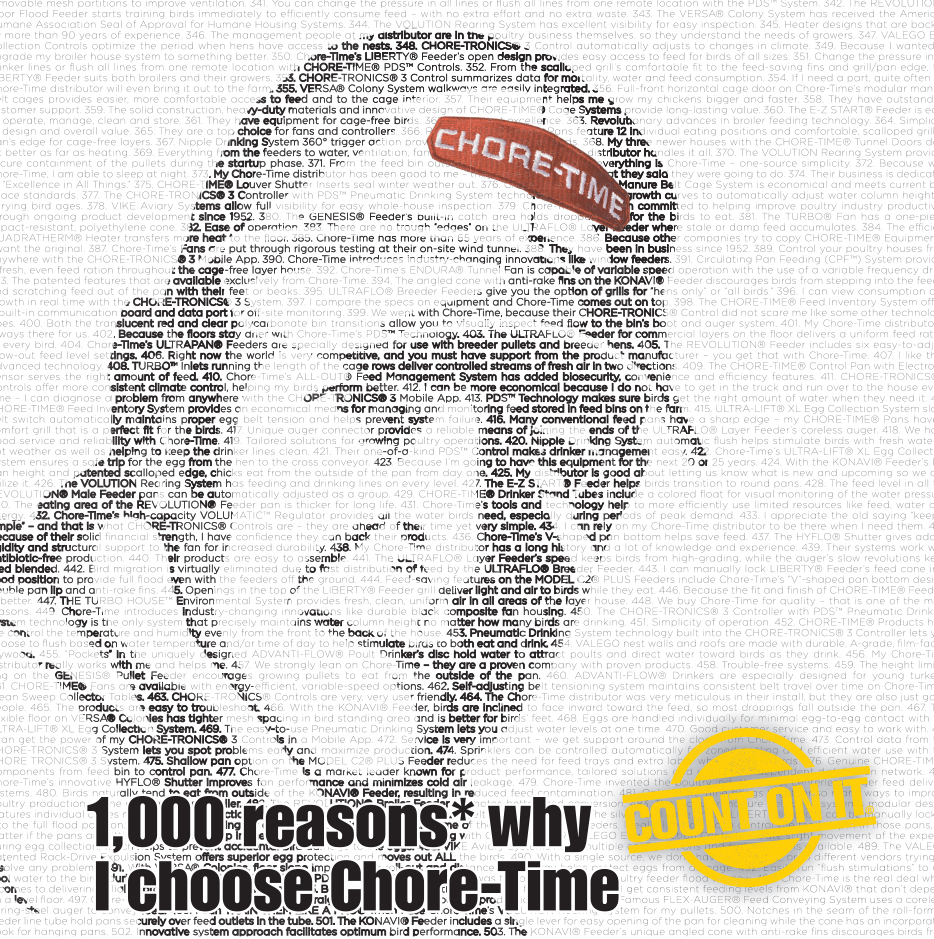 Slide 1
I use CHORE-TIME® Products because I believe in one-stop shopping.
Slide 2
Chore-Time's ENDURA® Fan is easy to install.
Slide 3
The KONAVI® Feeders let beaks in, but help keep feet out.
Slide 4
Chore-Time distributors are independent businesses that work longer and harder to serve my poultry equipment needs.
Slide 5
CHORE-TIME® Equipment integrates seamlessly into my house.
Slide 6
I like their breeder nesting systems better than the others.
Slide 7
Chore-Time's HYFLO® Shutters do not lose efficiency, so air speed is maintained to the end of the flock, when you need it most.
Slide 8
I like the PDS™ System – with one adjustment I can evenly adjust the drinkers in the whole house.
Slide 9
Because we have seen what works and what lasts – Chore-Time.
Slide 10
The VIKE Aviary is highly adaptable to many poultry house layouts, including multi-story houses with integrated flooring.
Slide 11
CHORE-TIME® Tunnel Doors insulate eight times better than curtains during the winter.
Slide 12
I can monitor 14-day trends on easy-to-read graphs with the CHORE-TRONICS® 3 System.
Slide 13
Made from a transparent polycarbonate material, the CHORE-TIME® Bin Transition offers high strength and high impact resistance.
Slide 14
Curtain-Back Manure Handling System for A-Frame Cages can be used with high-rise houses or with a dropping board scraper under each cage row.
Slide 15
Dropping Board Scraper drive units with 1/4 HP motors operate scrapers in cage rows up to 750 feet (230 meters).
Slide 16
The MODEL C2® PLUS Feeder is easy to adjust for flooding or a lower feed level as birds grow.
Slide 17
With the REVOLUTION® Feeder, you can finish birds heavier or quicker – the choice is yours.
Slide 18
Chore-Time's sprinkler drops come in four different lengths.
Slide 19
The DURA-THERM™ Space Heater heats an average of 232.3 to 371.6 square meters (2,500 to 4,000 square feet) per heater.
Slide 20
The MODEL C2® PLUS Feeder is tried and proven – it is simple, and it works great.
Slide 21
The VALEGO Nest System gives breeders the environment they need for maximum productivity.
Slide 22
Most of our houses already have CHORE-TIME® Feeders – we go with what we know.
Why did YOU choose Chore-Time? Submit your reason here:
"*" indicates required fields
*A number of the statements listed refer to a specific product or model or represent one person's opinion or belief. Statements do not imply universal applicability or opinion. Actual results and assistance provided may vary depending on a variety of factors beyond Chore-Time's control. Certain details based on a U.S. market study conducted in early 2018 and grower testimonials given in 2016. With regard to warranty, see Chore-Time's written warranty for full warranty details. In the pursuit of LEADERSHIP THROUGH INNOVATION®, Chore-Time reserves the right to change specifications without prior notice. All trademarks listed are the property of CTB, Inc. with limited exceptions. Exceptions are the property of their respective owners, and include, but are not limited to Galfan, AstroTurf and TAPTITE.