Chore-Time® News
Chore-Time's Omniflux Air Inlet Adjusts Air Speed And Direction Independently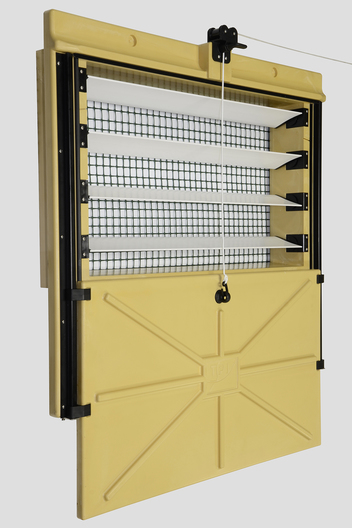 January 28, 2020
MILFORD, Indiana, U.S.A. — Chore-Time introduces the Omniflux Air Inlet, which provides independent control over both air speed and direction. This gives operators more control over the air flow in their houses than was previously possible. Traditional inlets are designed to be most efficient either in the winter or the summer, but not both. Conversely, the new Omniflux Air Inlet performs optimally year-round, no longer forcing producers to choose one or the other and providing greater flexibility and control.
Multiple Air Angles at Once
The four adjustable louvers can be positioned independently of each other, offering a unique benefit that other standard inlets can't match. During the winter, air can be drawn towards the ceiling and away from the birds, helping to keep them from becoming overchilled. In the summer, air can be directed down to the floor to help cool the animals similar to a fan. At the same time some air can still be directed towards the ceiling to encourage air circulation.
Independent Control of Size of Opening
The sliding polyurethane plate adjusts the size of the inlet opening to control air speed, regardless of louver direction. Unlike other inlet doors that can be prone to jam in dusty conditions or freeze up in cold conditions, a unique guide system helps prevent jamming and simplifies cleaning of the inlet compared with traditional inlet doors.
Optimal Air Flow
No detail was overlooked in the design of the Omniflux Air Inlet. The rounded edges help provide optimal air flow through the inlet, reduce drag and allow ventilation fans to draw in the maximum amount of air possible. This efficient design helps to reduce ventilation system load and can lower energy costs. Q-Ion seals, placed along the inlet's edges, increase efficiency still further and prevent air leakage. The seals are resistant to wear, stretching, and shrinkage, even in cold temperature climates.
The Omniflux Air Inlet is a great alternative for tunnel ventilation or houses where independent control of air direction and air speed is important. It can also improve performance in very wide houses or houses where obstacles are present, such as in free-range layer houses.