Take Control With Chore-Tronics® 3
The standard for whole house control.
The Chore-Tronics® 3 Control is the one all others are measured against. Only Chore-Time brings together so many ways to improve poultry production in one easy-to-use controller.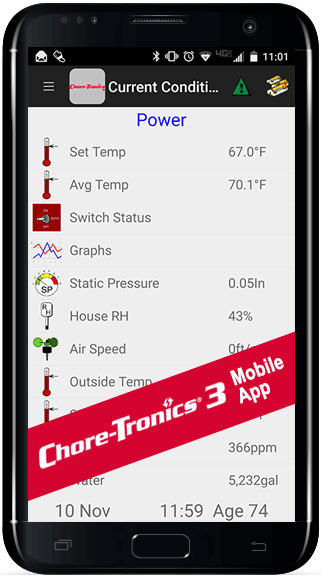 Features include:
Adjust water pressure from the controller using Pneumatic Drinking System (PDS™) technology.
Control Chore-Time's Sprinkler System automatically for zoned cooling.
Run multiple variable-speed fans for more efficient and precise climate control.
Control your poultry houses from anywhere with the Chore-Tronics® 3 Mobile App.
Receive alerts through call or text notifications from the optional Chore-Time Broadcaster™ Alert System.
Already have a Chore-Tronics® 2 or 3 Control? Don't worry. The Chore-Tronics 3 system is modular and upgradeable so you can add new features and capabilities at any time.
Contact your local distributor to learn more.
Your independent Chore-Time Distributor offers tailored solutions for poultry growing.