VERSA® PLUS Deep Colony System for Eggs
Deeper, Wider Compartments With Enrichment Options.
When you need a deeper, wider colony compartment, Chore-Time's Modular VERSA® PLUS Colony System with Manure Belt offers the compartment size options you need. Removable backs and partitions let you configure the compartments several different ways to meet your bird space requirements. The VERSA PLUS System is also able to be fully enriched from the beginning or at a later date.
Better Accommodates House Space in Some Buildings
Better accommodates house space in some buildings – particularly in retrofit situations – may even save a row of cages in some house layouts!
Mix and match rows of VERSA® PLUS and VERSA® Systems in the same house to best suit your space needs.
Size options for Chore-Time's VERSA® PLUS Colony System include models from 3- to 12-high in rows
up to 520 feet (160 meters) long; walkways are
easily integrated.
Compartment backs are optional from the start or
can be removed later.
Easily removable mesh partitions improve ventilation. Compartment width is determined by the number of partitions removed. Height is 22 inches (55.9 cm).
Independently mounted Chore-Time® Watering System is not affected by removal of partitions and includes two drinker lines.
Modular design makes repairs and manure belt access easier. Legs on 30-inch (76-cm) centers make leveling simpler.
Convenient assembly process features innovative interlocking parts and requires fewer rings.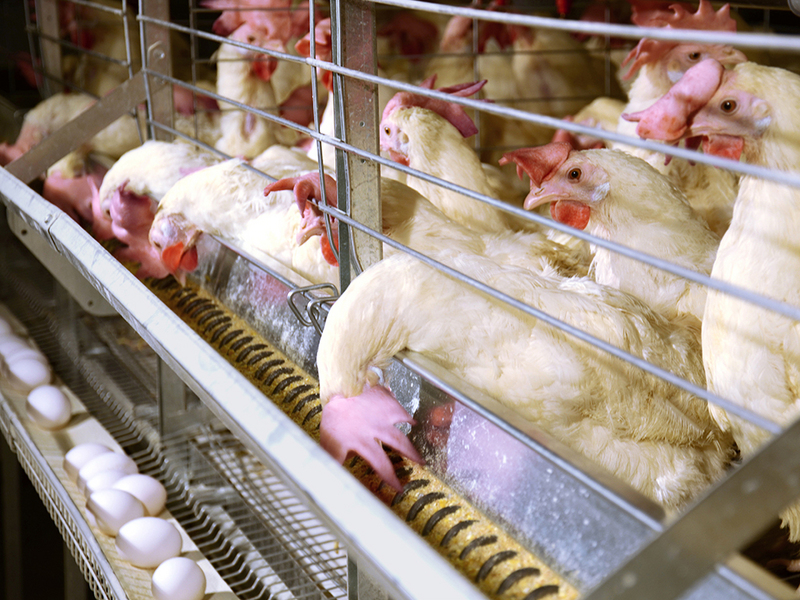 Included Enrichments
Easy-to-grip, plastic perches.
Nest pad area with flexible red curtains.
Scratch panels for keeping claws trimmed.
Litter pad for dust baths.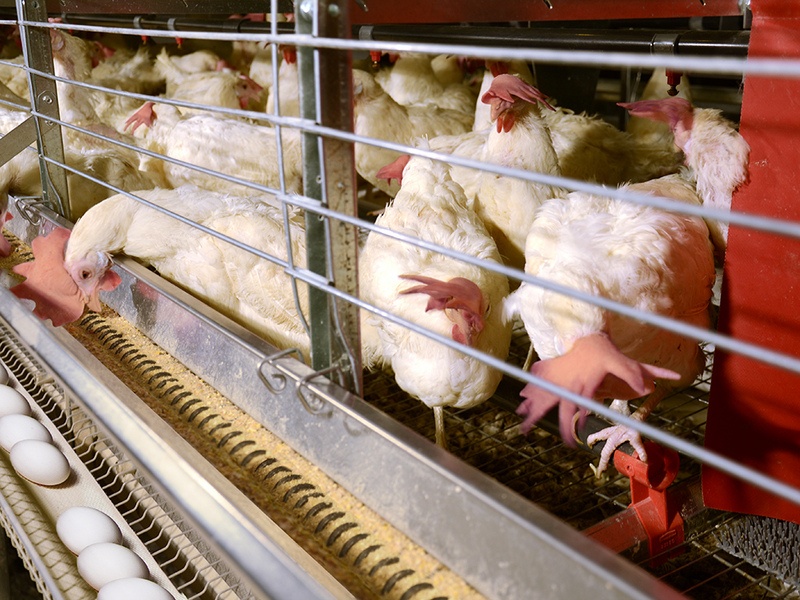 Improved Egg Roll-Out
Floor slope improves egg roll-out, and distance to egg tray helps protect eggs from damage.
Full-Open Horizontal Doors
Tall, full-open horizontal doors provide comfortable access to feed and easier bird placement/removal.
Manure Belt Support Structure
Manure belt support structure creates a concave belt surface.
Durable Construction
Compartments and structural components are manufactured using all galvanized steel construction and Galfan® floors for even greater durability.*
*Galfan is not owned or licensed by CTB, Inc. and is the sole property of its respective owner.
Flexible Floor
Flexible floor has tighter mesh spacing in bird standing area to provide a better surface for birds' feet.
Floor support is simple continuous rod construction.
Covered by Chore-Time's Generous Warranty and Solid Backing
Air Tube Manure Drying
Chore-Time's Air Tube System features large holes, resulting in more total air volume across the belt, drier manure and more even air distribution to the hens during minimum ventilation.
Literature
Manuals
Specifications
White Papers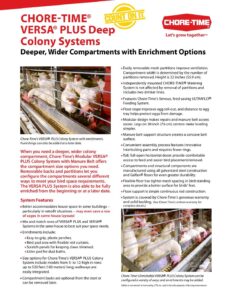 VERSA® PLUS Deep Colony System
(CT-2593/201810)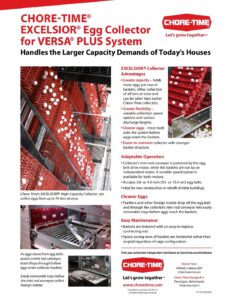 EXCELSIOR® Egg Collection System
(CT-2573/201810)