White Paper:
Multi-Tier Aviary Advantages
Advantages of Multi-Tier Aviaries in Cage-Free Egg Production

Cage-free facilities remain a dominant trend in North American egg production, driven by the growing demands of consumers, supermarkets, restaurants and others in the food supply chain. When transitioning from conventional egg production to cage-free, producers have choices, including multi-tier aviaries, combination (sometimes called "combi" or winchable platform) aviaries and floor systems. While each solution offers a unique set of benefits and challenges, many leading industry experts see multi-tier aviaries, also known as European-style or open aviaries, as the superior approach due to several key advantages of these systems:
High bird performance
Reduced labor requirements
Excellent bird welfare
Positive public perception
Strong return on investment
Many experts see multi-tier aviaries as the superior approach to cage-free egg production.
What Are Multi-Tier Aviaries?
Some of the earliest attempts at modern aviary design date back to the 1980s in Switzerland, as European markets began developing the demand for cage-free eggs. These early systems typically included different open levels the birds could jump inside, as well as separate nests often located against a wall. The primary disadvantage of these early systems was that bird density per square foot was very low, with each house containing only 600 to 6,000 birds. This greatly limited potential production and profits from the house. In addition to the inefficient use of space, this setup resulted in a high rate of floor eggs, though the low population of birds allowed relatively easy pickup of the eggs.
In the 1990s, producers in the Netherlands experimented with similar systems but added more birds per house – with populations often totaling from 20,000 to 25,000. This trial resulted in an even higher rate of floor eggs (six to 10 percent). The high percentage of floor eggs, in combination with the larger bird population, required more labor than is practical for commercial egg production.
Eventually, some egg industry pioneers began building aviary houses with integrated nests, rather than keeping the nests against a wall. They also placed the water lines in front of the nests so that birds would find the nests in their search for water. Birds performed well in this innovative system, and it became the foundation for modern multi-tier aviaries in cage-free egg production.
Today, producers may find a few types of multi-tier aviaries, but they are all based on the same principles. These include a bottom level, a separate nest level with water, and a top level with perches. Wire mesh floors and manure belts are located on all levels to help maintain a clean environment, while reducing the labor requirements of cleaning the aviaries. In some aviary configurations the top level is the same width as the bottom, while other configurations use a stepped design with a narrower top level. A combination of these configurations within a house is often ideal, since some birds naturally jump up within the system, while others prefer to jump across the aisle to move up to the top level.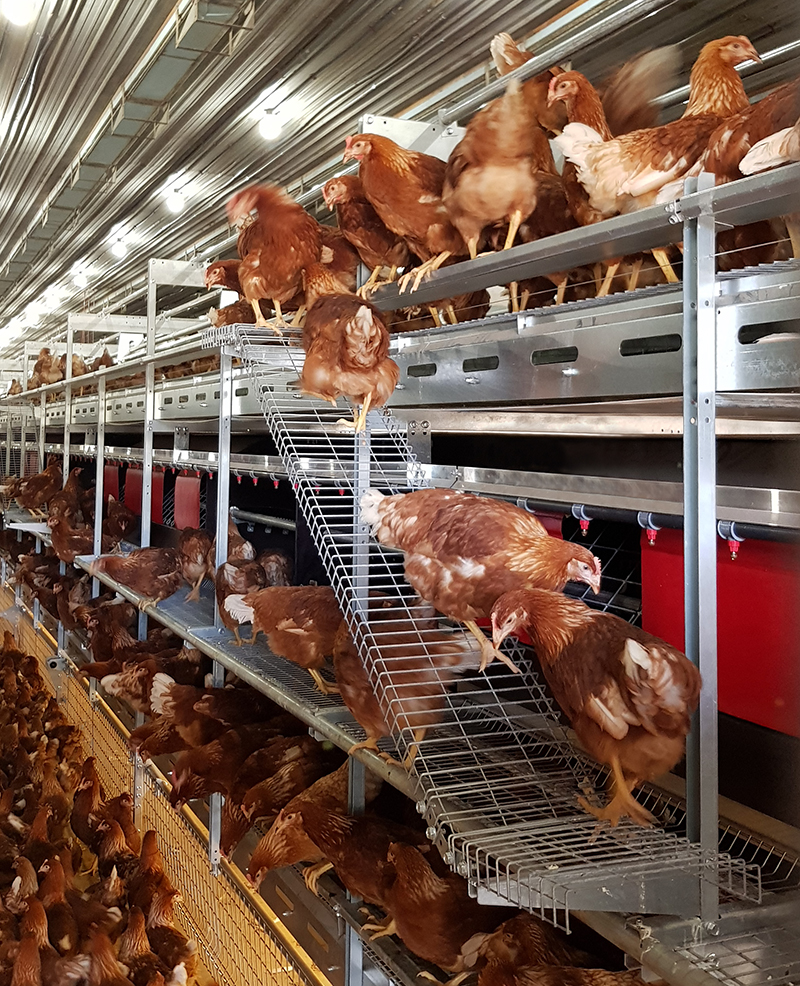 The upper-level perches provide an area where most birds prefer to sleep. The birds naturally tend to spread out on the perches, rather than bunching up in a corner, which helps prevent the formation of hot spots and improves ventilation for a healthy climate in the house.
An example of a modern multi-tier aviary is the VIKE™ Aviary System from Chore-Time, which features a low-profile design with multiple configurations available to fit well in both new and existing poultry houses. The VIKE™ Aviary System also includes integrated VALEGO™ Nests that provide a sturdy, quiet and clean environment to promote higher egg production, while reducing labor needs. Water is provided at the bottom level of the aviary for a week and a half after birds are first introduced to the house. Then the bottom-level water is shut off so that birds locate the nests when moving to the middle tier to access water. Efficient LED lighting helps illuminate the aviaries and nests for the birds which helps to minimize floor eggs.
Example of a Modern Multi-Tier Aviary House Layout

Rack-Drive Expulsion Nest Closure
Advantages and Challenges of Multi-Tier Aviaries
The success of multi-tier aviaries in cage-free egg production is largely attributed to the way they support natural bird behavior.
Well-trained birds placed in a multi-tier aviary at an appropriate density tend to produce more eggs per bird at a lower cost per egg for a higher return on investment than other system types.
Comparisons to Other Systems
The multiple low-profile configurations available in multi-tier aviaries can often solve the issues of small houses and low clearances just as well as floor systems.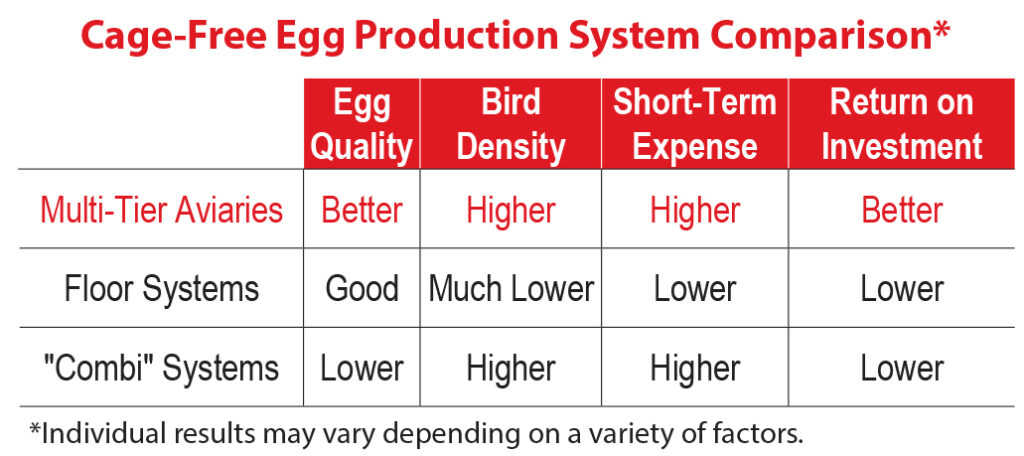 Literature
Manuals
Specifications
White Papers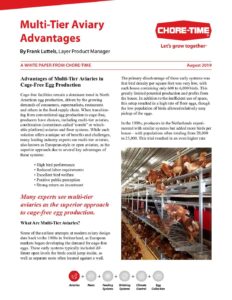 Multi-Tier Aviary Advantages
Aug 2019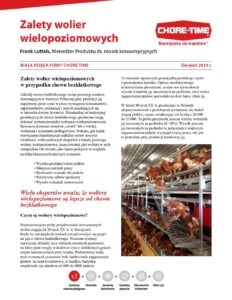 Zalety wolier wielopoziomowych
Aug 2019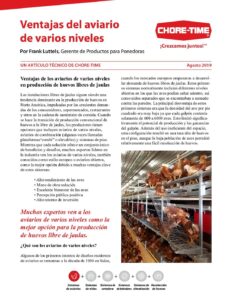 Ventajas del aviario de varios niveles
Aug 2019