Chore-Time® News
Upgraded CHORE-TRONICS® 3 Controller Improves Bird Comfort and Health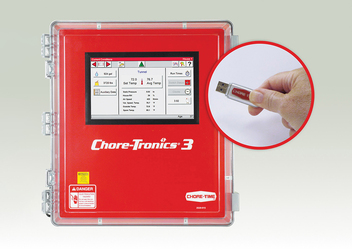 October 29, 2020
MILFORD, Indiana, U.S.A. — Chore-Time has updated its CHORE-TRONICS® 3 Controller with features to help poultry producers optimize productivity. The most significant upgrades focus on automatically adjusting the environment of poultry houses to enhance bird comfort and health. These features are standard in new installations and can be added to existing CHORE-TRONICS 3 Systems through a simple software update.
Heat and Moisture Removal Calculation
The updated CHORE-TRONICS® 3 System continuously calculates the minimum ventilation time for removing heat and moisture from the house. The system works by keeping track of the actual amount of water going into a house and also taking measurements of temperature and humidity both inside and outside the house. By using the data to modify the minimum-ventilation run time, the system is able to automatically achieve a desired range of relative humidity to help keep birds more comfortable and floors drier.
Maximum CFM Curves
Larger birds need higher ventilation rates to stay comfortable. The CHORE-TRONICS 3 Controller is pre-loaded with how much air each Chore-Time fan can move and provides automatic control to accurately maintain maximum CFM curves based on bird age. As static pressure changes in the house, the control calculates the required CFM for each fan based on the conditions.
PDS™ Pneumatic Drinking System Technology
The PDS system automatically adjusts water supply based on bird age and demand. While PDS isn't new to the CHORE-TRONICS 3 Controller, the ability to flush the system at any time using a "Flush Now" button is an additional feature. It gives poultry producers another way to stimulate birds to eat and drink beyond the ability to flush automatically based on water temperature and/or time of day.
Like most CHORE-TRONICS 3 Controls, these new features can be monitored and activated with the CHORE-TRONICS® Mobile App. The App gives poultry producers more options for managing poultry houses by giving them instant access to current conditions and remote control of critical systems.
"We are constantly updating and improving our systems to give growers better control over the feeding, drinking and environment of their poultry operation," said Bob Christenson, Product Manager for Controls at Chore-Time. "CHORE-TRONICS 3 is modular and upgradeable so growers can add new options and capabilities as they are developed."
More details about the CHORE-TRONICS 3 Controller and Mobile App are available here.